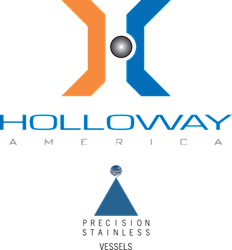 We're excited to let HOLLOWAY customers know they no longer need to hunt down their TOP documentation. We'll have their TOPs readily available.
Springfield, Mo. (PRWEB) August 19, 2015
HOLLOWAY AMERICA today announced the launch of a powerful and convenient software system that grants customers quick access to complete, original Turn Over Package (TOP) documentation for pressure vessel products HOLLOWAY has engineered. The first of its kind in the pressure vessel fabrication industry, the TOP system adds another customer-centric feature to the company's recently redesigned website and marks another one-of-a-kind service from HOLLOWAY.
The custom pressure vessel manufacturing company is thrilled to make the new service available to its customers, as HOLLOWAY AMERICA Director of Marketing Randy Colwell addressed: "The customers we serve don't have time to go searching for a TOP they may have received years ago. We're excited to let HOLLOWAY customers know they no longer need to hunt down the documentation. We'll have their TOPs readily available."
How the TOP Resources System Works
The new TOP software system is designed to restrict access to HOLLOWAY customers' respective TOP resources. Because HOLLOWAY often engineers custom solutions, from stainless steel fermenters and mixing vessels to automated smart tanks to tank heads or manways, the information each TOP contains is both valuable and proprietary. To protect that information, HOLLOWAY had the TOP system built with strict password requirements for user accounts. While the account application itself consists of a quick, five-field form on the HOLLOWAY website, HOLLOWAY representatives must first verify that the user is authorized to acquire that specific company's TOP documentation. Only after verification is a user then authorized to create an account.
After authorization has been verified and the account has been approved, that user will be able to enter the TOP file number in the search bar on the TOP Resources page on the HOLLOWAY website. The system will return the complete TOP for the specific pressure vessel product the user requested, and the user can then download the file. The process is easy yet prevents access from any person who lacks an authorized account.
About HOLLOWAY AMERICA
Providing innovative stainless steel pressure equipment to the processing industry since 1949, HOLLOWAY AMERICA fabricates custom solutions for unique processes. Since 1984, HOLLOWAY has also served as the only authorized provider of original Precision Stainless parts for pressure vessels and tanks. Today, HOLLOWAY is among international leaders in pressure vessel fabrication services, from initial consulting to engineering to fabrication to on-site remediation and preventive maintenance.
To learn more about HOLLOWAY AMERICA's custom pressure vessel fabrication services or to read details about the new password-protected TOP Resources system for customers' pressure vessel products, visit the company website or contact a representative at 417-863-0077 or info(AT)hollowayamerica.com.