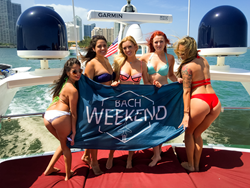 "We are excited to be in Miami. Our customers have come to expect VIP service and now they will have another destination to choose from when using our service." Robbie Goldsmith, Founder and CEO
Nashville, TN and Miami, FL (PRWEB) August 19, 2015
Bach Weekend announces opening of Bach Miami, enabling planners of Bachelor and Bachelorette Parties to immediately book into the program and take advantage of VIP concierge party planning in Miami.
"Bach Miami, the third city offering by Bach Weekend, has been in the plans since the beginning" said Robbie Goldsmith, CEO and Founder at Bach Weekend. "We are really excited to offer groups a destination with year-round, warm weather, a myriad of activities and a dynamic club scene."
Many customers have already benefited from the concierge and travel planner service in the first two locations offered by Bach Weekend; Bach Nashville and Bach New Orleans. Goldsmith reports " Since our inception in 2012. We've had the privilege of hosting groups from all over the U.S."
"In opening an office is Miami we wanted to select a Party Director with the right personality and contacts within the local scene, that's why we hired Miami-born and raised Sinan Cinaroglu" said Goldsmith. "Sinan is the perfect addition to our team because he is already ingrained in the Miami nightlife industry and we know he will be able to offer groups the VIP service they have come to expect from us."
Bach Miami is the latest city installment of Bach Weekend's commitment to deliver the best possible planning services for Bachelor and Bachelorette Parties. Bach Miami is now taking bookings for 2015 and 2016. For more information visit http://www.bachmiami.com.
Founded in 2012, Bach Weekend is the leader in Bachelor and Bachelorette Party Planning and Travel Services. The company offers Bach Nashville, Bach New Orleans, Bach Miami and Explore Crawls to groups seeking the VIP concierge experience for their Bach Parties.