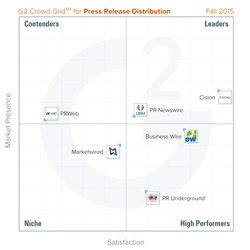 CHICAGO, IL (PRWEB) August 19, 2015
The first Grid℠ report for press release distribution services, published today by business software review site G2 Crowd, ranks six products to help purchasers in their selections.
Cision and PR Newswire were named Leaders in the report, receiving strong customer satisfaction scores with a large market presence. Business Wire and PR Underground were named High Performers, earning strong customer satisfaction marks with smaller market presence scores. Cision earned the highest overall satisfaction score.
The Grid℠, created from G2 Crowd's software review platform, factors in customer satisfaction reported by users, along with vendor market presence determined from social and public data to rank products. The Fall 2015 report is based on more than 380 reviews written by PR professionals, marketers and other business professionals.
PR distribution services expose and send press releases to various media sources on the web. Press release sources often offer their own news wire services, but the distribution space is comprised mostly of independent services that distribute news a number of these sources, and a considerable portion of these mass-release services come with or offer media monitoring and/or social media distribution features.
Of the more than 25 vendors listed in G2 Crowd's PR distribution category, the ranked products each received 10 or more reviews to qualify for inclusion on the Grid℠.
Across all providers, reviewers reported the product they use meets their requirements at an average rate of 86 percent, and on average reviewers said they were 80 percent likely to recommend the product they use.
Many reviewers specifically noted the large expense of press release distribution tools, even if they had relatively large budgets. Those same products, however, also offer a span of distribution and audience targeting that relatively smaller services don't. That said, most users across the board wished they could get a greater return on investment, especially in terms of targeting specific audiences.
Some highlights from the PR distribution service reviews on G2 Crowd:
"[Cision] makes vital information for PR professionals easily accessible...Ultimately, I'm pitching every week, so Cision keeps all of the essential contact information, contact preferences, outlet information, etc. all in one place and easy to use."

Jess Kulas, PR Account Executive at z2 Marketing
"The [PR Newswire] online submission form is extremely easy and quick to use. It was easy to train other employees on, and it takes the guesswork out of tracking down the correct contact list for a given press release. We got… better traction with our announcements with each submission. I loved how quickly I would get a phone call confirming my submission and [get] it reviewed...This saved me so much time!"

Lindsey Jodts, Marketing Coordinator at Lincoln International
"The comprehensive tools included in Business Wire allow you to closely control the distribution of your press releases. Users have complete control of the…location broken down by major cities, regions and states. You can also pinpoint the industries that pertain to your…release to [ensure that it is read] by your target audience."

Gordon Gillette, Marketing Director at SupplyDen
"[PR Underground's] submission console is uncluttered and easy to use. They offer a no-hassle cancellation. They're very responsive if there's an issue with your press release. As they claim, publication of a press release did result in a top Google News rank for us - several times."

Sean Miller, Co-Founder of Readerly
Satisfaction rankings are generated from the user reviews, and market presence is calculated from vendor size, market share, and social impact. Based on a combination of these scores, each software solution is categorized as a Leader, High Performer, Contender, or Niche.
Access to premium PR distribution platform research can be purchased on the site for $599. This offers the original data for filtering and weighting, as well as individual profiles of each platform with the most helpful positive and negative reviews, detailed company information, user satisfaction ratings, feature scores and customer metrics. Future Grid℠ refreshes will provide updated rankings based on the latest reviews and social data.
Be sure to check out the new Grid℠ for the best PR distribution services and subscribe to the premium research.
_______________
About G2 Crowd, Inc.
G2 Crowd, the world's leading business software review platform, leverages its 38,000-plus user reviews to drive better purchasing decisions. Technology buyers, investors, and analysts use the site to compare and select the best software based on peer reviews and synthesized social data. Co-founded by the founder and former executives from SaaS leader BigMachines and backed by roughly $12 million in capital, G2 Crowd aims to bring authenticity and transparency to business technology research. For more information, go to G2Crowd.com.