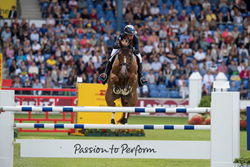 she jumped amazing and I didn't think I was so fast!"
(PRWEB UK) 19 August 2015
The FEI European Jumping Championships 2015 got off to a flying start in Aachen, Germany today with a brilliant victory for Frenchwoman Penelope Leprevost, while the host nation foursome of Meredith Michaels-Beerbaum, Ludger Beerbaum, Christian Ahlmann and Daniel Deusser took the early lead in the team standings.
The French lie second going into tomorrow's first round of the team competition with the defending European champions from Great Britain in third. But there is less than a fence between the top six countries, with Spain in fourth, the Netherlands in fifth and Ukraine in sixth place.
A total of 22 teams lined out in this afternoon's speed competition, and with four seconds added for every fence down, and results converted into points, just 1.33 separates Germany from France, while the British are only another 1.29 points further adrift.
And there is another sub-plot at play this week, with the last three team spots on offer for the Rio 2016 Olympic Games. France, Germany, Netherlands, Sweden and Ukraine are already qualified, but the defending Olympic champions from Great Britain are not. As it stands this evening they lead in the race for those three Rio berths followed by Spain, while the seventh-placed Italians and eighth-placed Irish are also in hot pursuit.
Had to be sharp
Course designer, Frank Rothenberger, set them a straightforward 13-obstacle track, but they had to be sharp from start to finish, with two big oxers opening them up from the outset. The double of triple-bar to oxer at fence five and the following narrow red gate at six claimed a number of victims. But it was the next double, a vertical with water-tray to oxer on a one-stride distance, that hit the floor most often, while the following planks also took their toll. The track got progressively more difficult, and the left-bend turn to the vertical at fence 10 had to be managed carefully. The biggest drama of the day was a freak fall for Zuzana Zelinkova here. the rider from the Czech Republic ejected from the saddle when her fabulous bay stallion, Caleri, put in a typically enthusiastic leap.
It was Germany's Meredith Michaels-Beerbaum who opened the competition with an exhibition round from her lovely grey gelding Fibonacci. She set the pace in 71.85 seconds, and that gave the rest of the home team a great platform on which to build. Christian Ahlmann followed with a foot-perfect run with Taloubet Z in 70.80 seconds and when Ludger Beerbaum raced through the finish in 69.17 seconds he ensured not only a top team placing for his side, but individual runner-up spot in the competition. Fourth-line German, Daniel Deusser, had a single fence down with Cornet d'Amour.
The British meanwhile were also impressive. The big Aachen arena looks tailor-made for Michael Whitaker's extravagant grey stallion Cassionato, and when their careful clear was followed by a much quicker one from Ben Maher and Diva, then Jessica Mendoza's eight-fault effort with Spirit T could be dropped because Joe Clee produced the perfect end to their day. The 37-year-old galloped fearlessly around the track with Utamaro D'Ecaussines to break the beam in 69.67 seconds which slotted the pair into third place individually.
Poised
Defending individual European champion, Roger Yves Bost, was not selected for his side, but thanks to great back-up from Simon Delestre and Jerome Hurel, Leprevost looks poised to do big things for France this week.
She was delighted, and a little surprised, that she came out on top this afternoon. Her 10-year-old chestnut mare, Flora de Mariposa, began the year really well but picked up an injury in her left foreleg just before their home show at La Baule at the end of May. She was out for two months and only returned to action in July, competing in Germany and then travelling to Hickstead (GBR) where she showed she was right back to her best again when jumping double-clear in the Furusiyya FEI Nations Cup™ before finishing second in the Grand Prix. Those results sealed the pair's place in the French side.
"Flora came back so quickly once she returned to work, and she's full of confidence and very fresh!", said the 35-year-old rider who finished second with Vagabond de la Pomme at the Longines FEI World Cup™ Jumping Final in Las Vegas, USA three months ago. She didn't think the Aachen arena would suit Vagabond, so Flora's return to top action is very timely.
Talking about her winning ride today, Leprevost said, "I had a good run, and my mare went very well. I was too long at the triple bar in the combination, but she jumped amazing and I didn't think I was so fast!"