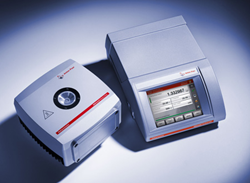 Ashland, Virginia (PRWEB) August 21, 2015
The precise measurement of sulfuric acid (H2SO4) content is essential to assure the quality of your products. For determining sulfuric acid concentration, titration has long been the conventional method though it is time-consuming and labor-intensive. Sulfuric acid which is hygroscopic in nature, can be an additional source of error due to changes in concentration over the measurement time. The increased measurement time can reduce the measurement accuracy and compromise a sample.
Anton Paar announces a new measurement method for its Abbemat refractometer series which allows for the fast and precise measurement of sulfuric acid. With only a few drops of sample applied to the prism through a chemically resistant PFA micro flow cell, sulfuric acid concentration is measured with an accuracy of up to 0.028 g/100g solution. The user friendly method also boasts sophisticated features like acceptance limits, data recording and communication as well as internal temperature control.
For more information on Anton Paar's Abbemat refractometer series, visit http://www.anton-paar.com/refractometer.