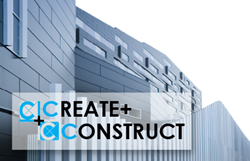 New York, NY (PRWEB) August 19, 2015
Simpson Gumpertz & Heger (SGH) is bringing together a select group of architectural, engineering, and construction (AEC) experts for a full-day symposium on residential/mixed use design, investigation, and rehabilitation.
CREATE+CONSTRUCT 2015: dwell will be a one-day, American Institute of Architects (AIA)-accredited educational event on Wednesday, 30 September 2015.
SGH is inviting architects, developers, owners' representatives, and contractors to the symposium to better understand challenges and opportunities associated with New York's current residential building boom. Speakers will discuss new residential design and construction, as well as investigation and rehabilitation of existing buildings. Topics include adaptive reuse, residential facade design, and innovation in high-rise buildings.
Early registration discount ends 23 August 2015 and final registration deadline is 23 September 2015. Symposium highlights include:

Keynote presentations by John Cetra, Founding Principal of CetraRuddy Architecture DPC, and Alan Goldstein, Co-Founder and Partner at Goldstein, Hill & West Architects, LLP.
Session speakers, including executives from BG Glass Technologies, Kohn Pedersen Fox Associates, SGH, and Workshop/APD.
An afternoon panel session on the future of residential and mixed use design with executives from Dattner Architects, FXFOWLE, Kohn Pedersen Fox Associates, Paik Construction, Inc., Raëd Abillama Architects, The Witkoff Group, and SGH. The panel will also look at challenges of iconic building design in the New York market.
The symposium will take place at TKP New York Conference Center, 109 W 39th Street, New York, New York, beginning at 8:00 a.m. The day will conclude with a reception at 4:00 p.m.
For more event and ticketing information, please visit: http://www.create-construct.com.
# # #
Simpson Gumpertz & Heger Inc. (SGH) is a national engineering firm that designs, investigates, and rehabilitates structures, building enclosures, and materials. Our award-winning work encompasses building, energy, civil/infrastructure, and science/defense projects in the United States, Canada, and more than thirty additional countries.
SGH has offices in Boston, Chicago, New York City, San Francisco, Southern California, and Washington, D.C.
For more information, please visit http://www.sgh.com.