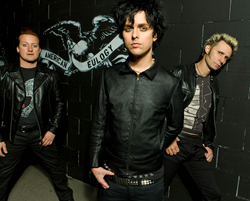 NASHVILLE, Tenn. (PRWEB) August 19, 2015
Grammy Award-winning and Rock and Roll Hall of Fame inductee Green Day has signed with SESAC for representation.
Consisting of Billie Joe Armstrong, Mike Dirnt and Tre Cool, the American punk band that has reached superstar status on a global stage for songs such as "Boulevard of Broken Dreams," "American Idiot," "Know Your Enemy," and "Wake Me Up When September Ends," has sold more than 75 million records, won multiple Grammy Awards and toured the world numerous times.
"Green Day is an iconic band that has created important, diverse and unforgettable records," said John Josephson, Chairman and CEO, SESAC. "Billie Joe, Mike and Tre are phenomenal songwriters and musicians whose influence on the musical landscape is immeasurable. We are thrilled and humbled to welcome them to the SESAC family."
"We are thrilled to be signed to SESAC and excited to partner with them for the next phase of our musical adventure," the band said in a statement.
Green Day, which emerged from the underground punk scene in Berkeley, California, first made an impression on the music scene in 1994 with the release of "Dookie," a punk-pop album that sold more than 15 million copies and earned the band its first Grammy for Best Alternative Music Performance. The band spent the next decade releasing music and touring the world. In 2004, Green Day released what would become known as the band's landmark CD, titled "American Idiot," which debuted at No. 1 on the Billboard chart, spawned five hit singles and earned seven Grammy nominations (the band won two Grammys, including Best Rock Album). The 2009 album, "21st Century Breakdown" won a Grammy for Best Rock Album and yielded "Know Your Enemy," the first song ever to top Billboard's Rock, Alternative and Mainstream Rock charts simultaneously, and "21 Guns," which earned the band three 2009 MTV Video Music Awards, including Best Rock Video. Green Day also won an American Music Award for Favorite Alternative Rock Music Artists that year.
Green Day collaborated with Tony Award-winning director of "Spring Awakening," Michael Mayer for the stage musical of "American Idiot." After debuting and breaking attendance records in September 2009 at the Berkeley Repertory Theatre, the play moved to Broadway and ran for a year at the St. James Theatre, and won two Tony Awards.
In 2012, Green Day released its highly-anticipated album trilogy of "Green Day ¡Uno!," (September 25, 2012) followed by "Green Day ¡Dos!" (November 13), and "Green Day ¡Tré!" (December 11). The band was inducted into the Rock and Roll Hall of Fame in April 2015.
About SESAC
SESAC is a music rights organization that serves both the creators of music and music users through music licensing services and the use of information technology and data science to provide timely, efficient royalty collection and distribution. SESAC's performing rights subsidiary is the second oldest and most progressive PRO in the U.S., the only PRO to pay monthly radio royalties, and was the first PRO to pay songwriters and publishers for live performances in venues of any size. Its affiliate roster continues to grow, with recent signings such as Mariah Carey, Zac Brown, Charli XCX and Nikki Sixx joining stalwarts Bob Dylan, Neil Diamond, Lady Antebellum and the Kurt Cobain catalog. Additionally, SESAC has long represented the music on some of TV's biggest shows including Grey's Anatomy, How I Met Your Mother, Parenthood, Dateline NBC and Dr. Phil among many others. SESAC's Rumblefish subsidiary is a leader in music micro-licensing, network monetization on platforms such as YouTube and license verification utilizing its patented RadKey technology. Headquartered in Nashville, the company also has offices in New York, Los Angeles, Atlanta, Miami and London.
SESAC Contact:
Shawn Williams
615.320.0055
Green Day Contact:
Brian Bumbery
323.904.9094