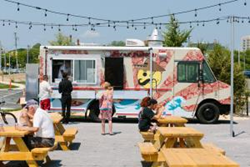 Allenhurst, New Jersey (PRWEB) August 19, 2015
As summer winds down, beach-goers are encouraged to visit Asbury Park Boardwalk's six new mobile food trucks before they pack up for the season. Located at Seventh Avenue along the boardwalk, also known as "North Eats," the park is the Nation's first oceanfront food truck park since its debut over Memorial Day Weekend. Food trucks will remain open through Labor Day Weekend.
Participating food trucks include: Johnny's Pork-Roll, Seoul Fusion Tapas, Igloo Ice Cream and Italian Ice, The Pocketful, Runa Peruvian Cuisine, and Neapolitan Express. North Eats serves patrons from 11:00 am to 9:00 pm. The businesses join the eleven other food trucks operating along the Jersey Shore at various parking lots in Sandy Hook.
For more information on food trucks and other seasonal hotspots, visit http://www.app.com/story/entertainment/events/outdoors/2015/08/10/things-must-summer-ends-shore/31292803/.
About Bielat Santore & Company
Bielat Santore & Company is an established commercial real estate firm. The company's expertise lies chiefly within the restaurant and hospitality industry, specializing in the sale of restaurants and other food and beverage real estate businesses. Since 1978, the principals of Bielat Santore & Company, Barry Bielat and Richard Santore, have sold more restaurants and similar type properties in New Jersey than any other real estate company. Furthermore, the firm has secured in excess of $500,000,000 in financing to facilitate these transactions. Visit the company's website, http://www.123bsc.com for the latest in new listings, property searches, available land, market data, financing trends, RSS feeds, press releases and more.