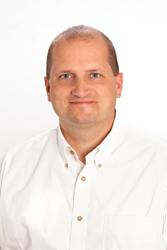 Wausau, WI (PRWEB) August 19, 2015
Collaborative Consulting, a professional services consultancy providing business and technology solutions to improve organizational performance, announces the appointment of its new Collaborative Domestic Solution Center (CDSC) site director, Andy Thompson.
With 20 years of industry experience, Thompson brings a wealth of project and team leadership skills to Collaborative Consulting's 130-employee domestic sourcing center. As site director, he will oversee infrastructure, facilities management, employee hiring and development financial projections, strategy, community relations and corporate communications.
"We are thrilled to welcome Andy to the team and to continue building upon the important work being done at the CDSC," said Bill Robichaud, Collaborative Consulting's Vice President of Delivery Services. "Andy's experience and reputation speak for themselves, and his arrival augments our mission to combine strategic business and technology solutions with low-cost expert delivery right here in the U.S."
Established in 2012, the CDSC is a unique rural sourcing center in Wausau, providing IT solutions for complex business challenges. Its primary areas of focus include business intelligence, data integration, software development and integration, software testing and automation and performance engineering. Its primary phases of solution development include development and integration, application testing and application support. For Thompson, the attraction to Collaborative Consulting is its philosophy, the caliber of its work and the spirit of its people.
"Collaborative Consulting's business model fits perfectly with my deeply-held belief that individuals and communities should be developed to contribute on a larger scale," said Thompson. "Collaborative has a purpose – and that's to be the employer of choice in central Wisconsin. I am looking forward to growing the center, providing the best onshore alternative for clients, improving operational efficiency and, most importantly, making the CDSC among the best places to work for our colleagues."
Prior to joining Collaborative Consulting, Thompson was a technology director at Delta Dental in charge of strategy and new IT initiatives. He also ran Liberty Mutual's Wausau-based development center, overseeing more than 110 personnel and serving as a resource to the company's 40,000 employees worldwide.
To learn more about Collaborative Consulting, its leadership and the CDSC, please visit the website here: http://www.collaborative.com.
About Collaborative Consulting
Collaborative Consulting is a business and technology consulting firm headquartered outside of Boston, in Burlington, Massachusetts, with offices in New Jersey and Pennsylvania, and a solution center in Wausau, Wisconsin. Collaborative delivers a comprehensive set of solutions focusing on business process and program management, information management, software solutions, and software performance and quality, with a set of focused industry services including the life sciences and financial services industries. With over 400 employees, Collaborative designs, architects, builds, plans, and implements technology-driven solutions at many leading enterprise- and mid-market sized companies. For more information, visit: http://www.collaborative.com/