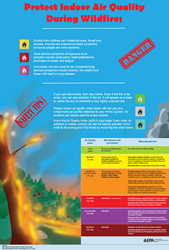 Serious symptoms of exposure to wildfire pollution include chest pains, heart palpitations and trouble breathing.
Madison, WI (PRWEB) August 20, 2015
So far, nearly 6 million acres of forest have burned this year during wildfire season, according to the National Interagency Fire Center. Among the many problems caused by raging wildfires are poor air quality and the related health problems.
As a brand leader in Indoor Air Quality (IAQ) for more than 60 years, Aprilaire understands the negative impact dirty air has on comfort and health. Our whole-home air purifiers are designed to remove all types of allergens and irritants, including the particulates found in wildfire pollution. Below are some of the many ways to protect health and improve IAQ during the current wildfire season.
Three Ways to Reduce Health Impact of Wildfire Smoke
1. Stay indoors when Air Quality Index (AQI) levels are in the unhealthy range. The AQI is measured by the EPA and alerts are announced through news media, weather information sources and emergency broadcasts when air quality is low, especially during wildfire season.
2. During an air quality alert, people should avoid strenuous exercise or yard work. Going for a run or mowing the lawn is not a healthy activity when AQI is in the unhealthy or hazardous range.
3. Control IAQ with an air purifier. The EPA states that indoor air purifiers can help reduce particulate levels indoors if they are the right size and type for a home. The best option for many homeowners is an Aprilaire whole-house air purifier.
The pollution from wildfires drifts across the country and has recently caused dangerous AQI levels in cities as far away as Minneapolis and Chicago. In some areas, the AQI has reached ranges from unhealthy to hazardous – with a number of health implications. Aprilaire's whole-home air purification solutions can help control indoor air quality issues related to the recent wildfire pollution.
Symptoms of Poor Air Quality during Wildfire Season
According to the EPA, unhealthy to hazardous AQI levels can have a number of health impacts, including:

Irritation of the eyes, throat and sinuses. Anyone can experience these symptoms, but some people are more sensitive.
More serious symptoms of exposure to wildfire pollution include chest pains, heart palpitations, shortness of breath and fatigue.
Individuals who are most at risk of experiencing serious symptoms include children, the elderly and those with heart or lung disease.
As a record number of wildfires continue to burn, people must prepare for poor AQI alerts. A certified HVAC contractor can help determine the best size and type of Aprilaire air-purifier for any home. Whole-home air purifiers can clean the air throughout the entire house, instead of just in one room. This helps protect all family members for the negative health impacts of wildfire pollution.
About Aprilaire:
We have been a brand leader in IAQ for more than 60 years, delivering a wide range of whole-home systems that improve comfort, health and energy efficiency. Our brand products are sold through and installed by HVAC contractors across the United States and Canada. Visit Aprilaire.com to learn more about whole-home air cleaners and total comfort solutions to purity, humidity, freshness and temperature.