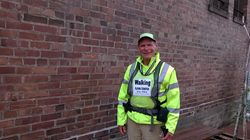 Pulmonary hypertension (PH) is high blood pressure in the vessels of the lungs, which can lead to death from heart failure. There is no cure.
Silver Spring, Md. (PRWEB) August 19, 2015
Who:
Ahead of his 80th birthday, Don Stevenson (AKA the Pacing Parson), a Seattle-area (Auburn, Wash.) retired minister and former U.S. Marine, is walking from his home near Seattle, Wash., to Silver Spring, Md., near Washington, D.C., to raise awareness and money for the Pulmonary Hypertension Association (PHA).

Stevenson, who started the walk, June 9, walks 25-30 miles each day, taking Sundays off to rest.
Stevenson's walk for PHA is his 20th since 1998 to raise money and awareness for medical causes he supports, earning him the nickname, "The Pacing Parson."
PHA relies on donations to fund patient and caregiver support services, PH public awareness and medical education programs, specialty care resources and research to find ways to prevent and cure the disease. For 12 consecutive years, PHA has received the highest rating - four stars - for fiscal accountability and transparency from Charity Navigator, placing it in the top one percent of all rated charities.
Pulmonary hypertension (PH) is high blood pressure in the vessels of the lungs, which can lead to death from heart failure. There is no cure. Stevenson had believed a 20,000-mile charity walk he completed last year would be his final one. However he felt compelled to support PHA after visiting Betty Mayfield, a fellow church member, in the hospital before she died of the disease.

This walk honors Mayfield, along with Dorothy Fitch, a close friend who is struggling with PH, and 14-year-old Cullen Steele, a local (Kent, Wash.) PH patient who recently underwent a heart and lung transplant. In 2010, Stevenson walked 1,200 miles around the perimeter of Washington State to help raise money for expenses related to the boy's surgery.
What:
Stevenson's walk will include a stop at PHA Midwest Chapter's Detroit O2 breathe Quarter Marathon fundraiser Kickoff event at the Buffalo Wild Wings in Sterling Heights, Mich, on Wednesday, August 26, 2015. The Chapter will thank him for his amazing sacrifice to raise awareness and funds for PHA.
Buffalo Wild Wings
44833 Mound Road
Sterling Heights, MI
5 pm – 9 pm
For its part, Buffalo Wild Wings will donate to PHA 15 percent of proceeds from customers who present a flier for the kickoff event.
The Detroit O2 breathe Quarter Marathon Run and Walk is September 12, 2015 at Stony Creek Metro Park in Shelby Township, Mich. For more event information about the Run and Walk and to download the event flyer, visit: http://www.o2breathe.org/Detroit15.
How:
PHA is chronicling Stevenson's journey on social media and inviting people to walk with him and capture the experience via photos and short video clips.
Stevenson followed a route along Highway 2 across the northern part of the U.S.
He completes 25-30 miles a day and catches up with his wife, Loretta, who drives ahead and secures overnight accommodations. The Stevensons ask hotels to sponsor their overnight stays.
The Stevensons are passing through Michigan and heading south across the Straits of Mackinaw, through Detroit and Ohio before finally arriving in Silver Spring, Md., at the headquarters of the Pulmonary Hypertension Association. The goals is to reach PHA Headquarters in mid- to late-September.
People and businesses will support Stevenson through sponsorships and donations to PHA.
Stevenson's walk is one of PHA's many Team O2 breathe events, where communities and individuals raise money for PHA.
Donors can support Stevenson by going to PHAssociation.org/PacingParson and following his journey @PHAssociation on Twitter and Pulmonary Hypertension Association on Facebook. PHA asks that supporters add #PacingParsonPHA to their social media posts.
# # #