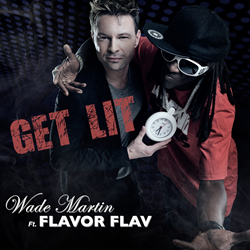 Las Vegas, NV (PRWEB) August 24, 2015
STK, located on the 3rd floor of The Cosmopolitan of Las Vegas, will host a Red Carpet music video premiere September 1st at 10 p.m. for Wade Martin's latest work as an artist and producer. The premiere will showcase two videos featuring artists Flavor Flav and Coolio shot both in panoramic and virtual reality formats. The unveiling of these videos will be a landmark event showcasing never-before-seen full HD virtual reality formats.
Through these videos, Wade Martin is inducting Flavor Flav and Coolio into a new, modern musical era featuring both of them in his own original club-style songs which he created, produced and recorded. The two songs are accompanied by two state-of-the-art music videos shot with high-tech cameras similar to those used in popular Hollywood films. In addition, the most current virtual reality technology was used to shoot both videos, allowing the viewer to feel as though they are stepping inside the videos. Videos will be released on Wade Martin's YouTube channel this September.
Viewers will also get an exclusive first look at more Wade Martin productions as he will premiere two additional songs and videos he's produced and co-written for Katy Cappella and STT. Katy Cappella's title track, "Who I Am," will be featured as a mini movie boasting a full cast of actors and special effects accompanied by a powerful mid-tempo pop song. In contrast, STT's happy, up-tempo video titled "Best Weekend Ever" features scenes of jet surfers, jets skies, cliff diving and boats.
The upcoming Red Carpet event at STK will be co-sponsored by Salt Tequila. Any media wishing to attend the event for pictures/interviews must submit a request before 08/30/2015 with Shawn Lane at Cheyenne Marketing.
Previews can be seen here:
1) Wade Martin ft. Flavor Flav: https://youtu.be/bYeO6Va_kR0
2) Wade Martin ft. Coolio: https://youtu.be/GR29juICO7A
Social media links:
Wade Martin
Twitter/instagram: wademartinsp
Facebook: facebook.com/WadeMartinProducer
Youtube: youtube.com/channel/UCGtdzCWrSfizWmLhIXL0fQw
Flavor Flav:
Twitter: @FlavorFlav
Instagram: @flavorflav4real
Facebook: facebook.com/pages/Flavor-Flav/154273454641062
Coolio:
Twitter/instagram: @coolio
Facebook: facebook.com/Coolio
Katy Cappella:
Twitter/instagram: @katycappella
Facebook: facebook.com/KatyCappellaMusic
STT:
Twitter/instagram: @STTofficialsite
facebook.com/sttofficial