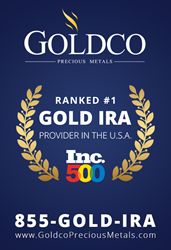 All the experts were down on gold, yet our customers are buying in the millions.
Tarzana, CA (PRWEB) August 26, 2015
Fresh from being named #1 gold IRA company, #3 in the financial services sector, and the 16th fastest growing company overall in the country in Inc Magazine's Inc 5000, Los Angeles-based Goldco Precious Metals announced today it resoundingly broke its own sales record in July, besting the previous peak by an impressive 38%. This despite recent price dips for gold that had financial pundits bashing the precious metal and insisting current fluctuations spelled the death of gold as a safe-haven asset and investment hedge, especially in uncertain economic conditions.
In recent weeks, as gold's spot price briefly dipped to a 13-year low, the California precious metals firm had the best sales month in its history.
"I'm still taking it in," says Trevor Gerszt. Goldco Precious Metals CEO. "All the experts were down on gold, yet our customers are buying in the millions."
"Of course we're very pleased, but I think this has a lot to do with who gold buyers are. They're smart but skeptical. They keep up on the news, they listen to a variety of opinions, but they make their own decisions."
While Gerszt counts thousands of direct buyers, people who purchase coins for storage at home or in a depository, among his clientele, he says Goldco's main business comes from customers looking to roll over traditional IRAs, 401(k)s and other retirement accounts into gold IRAs.
"Middle-class people who went through the recent recession, who saw their retirement accounts nearly wiped out by the bad decisions of others, have decided to do what they can to protect what they have left,' he says.
Even as Inc. Magazine named Goldco the #1 Gold IRA provider in the country, Gerszt finds some still don't know how easy it is to invest part of their retirement savings in precious metals. "I think the reason customers trust us is we don't rush them into a sale. We talk to them, find out what their goals are, and how much they have invested overall, so we can give them the best advice. If a rollover to a Gold IRA isn't right for them, we'll tell them." But when a Gold IRA is the best option, Gerszt's team facilitates the entire process, from completing the paperwork to ordering and shipping the coins – a streamlined service Gerszt feels his customers appreciate.
Another asset for Goldco Precious Metals? Gerszt's personal enthusiasm for precious metals. "Gold is the closest you'll ever have to an eternal and universal asset. When things are going well, gold holds value. But when the dollar goes down, or inflation hits, that's when gold really shines."
About Goldco Precious Metals
Goldco Precious Metals, located in Los Angeles, CA, is a privately held retirement services firm specializing in wealth and asset protection. They offer a range of retirement investment accounts including traditional, self-directed and Self Storage IRAs; as well as IRA, 401(k) and 403(b) rollovers. Founded in 2006 by finance and precious metals authority Trevor Gerszt, Goldco also offers direct sales of precious metals coins and bullion to collectors and investors.