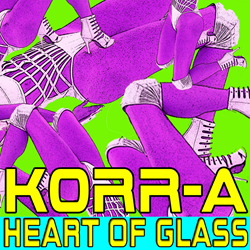 Los Angeles, CA (PRWEB) August 21, 2015
Los Angeles based singer KORR-A has released her awaited single "Heart Of Glass" with music video directed by Jensen Noen. Produced by Grammy-Nominated producer Dave Aude, the EDM/pop record boasts an infectious vibe that will keep you moving. "Heart of Glass" is now available on iTunes and the music video is on YouTube.
The record weaves a modern tale of an unattainable love, and the music video brings it to life starring renown vlogger/singer Roma Acorn as the love interest. KORR-A takes control going after what she wants, seducing a priest (Roma Acorn), while other scenes of impressive dancing and suggestive imagery are interlaced into the video. Both the music video and song are energetic and edgy. The video pays with concepts of light versus dark by illustrating innocence taken by temptation when the priest gives into her calling.
KORR-A is known for her edgy music videos and eye-capturing performances. Growing up a dancer- she brings all of her music to life with choreography. She follows her creative urges and is making a name for her self. Her previous single "Swipe Right" is about the Tinder/Grinder apps and the modern dating world. She is not afraid to touch on taboo subjects in her lyrics.
KORR-A made a splash in the dance world with her first single "Fiyacraka," produced by Dave Aude who boasts over 83 #1 Billboard dance hits. Fiyacraka charted at #18 on the Billboard Dance Club Charts, at #12 on UK's Music Week Commercial Pop Charts, and at #7 on the DJ Times National Dance/Crossover Charts. The Sick Individual Remix of Fiyacraka received a lot of attention, being supported by DJ's like Hardwell who opened his podcast with it. Other prominent supporters included Chuckie, Paul Oakenfold, and Laidback Luke. The intoxicating music video premiered on LOGO and was featured on MTV and VH1.
Keep up with KORR-A:
http://www.soundcloud.com/korr-a
http://www.youtube.com/korramusic
contactkorra(at)gmail(dot)com
Get Heart Of Glass on iTunes
http://itunes.apple.com/album/id1030936280?ls=1&app=itunes