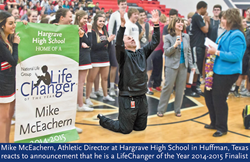 Montpelier, VT (PRWEB) August 24, 2015
National Life Group announced today that nominations are being accepted for the 2015-2016 national LifeChanger of the Year program and that six additional awards have been added to the growing program.
Sponsored by the National Life Group Foundation, LifeChanger of the Year recognizes and rewards the very best K-12 public and private school educators and employees across the United States. These nominees positively influence the lives of students by exemplifying excellence and leadership.
Past nominees and winners have included teachers, school nurses and guidance counselors, superintendents and principals, administrative staff, bus drivers and custodians.
The reigning Grand Prize Winner Mike McEachern, an athletic director, teacher and coach from Hargrave High School in Huffman, Texas, was selected from more than 600 nominees from all 50 states. "Coach Mac" started a program called BAM – (Becoming A Man) – for young men who may not have a male role model in their lives. This program involves students returning to school in the evenings to meet with coaches, volunteer dads and student leaders. Students have dinner and visit with guest speakers to talk about their futures, life and success. This program helps motivate and give guidance to these young men.
"When you're an educator – when you're a coach or a teacher - you're that 24/7. You don't go home and take that hat off. When the kids see you around town or they see you out to eat, you're coach or teacher," said Coach Mac. "I want the young men and young ladies of America to do better, to be successful."
This year, 16 national winners will be chosen, expanding the total number of awards by six over last year. Awards will be given in the following categories:

National Grand Prize Winner (1) - $10,000
National Grand Prize Finalist (4) - $5,000
LifeChanger Spirit Award (1) - $5,000
LifeChangers (10) - $3,000
Each winner receives a monetary award which includes a personal cash prize and a matching donation to their school. In addition, the top five nominees are also invited to attend a national awards ceremony which will be held in April in Los Cabos, Mexico. New this year is the LifeChanger Spirit Award which will be given to the nominee whose community demonstrates the most support for his or her nomination. Support can be demonstrated in a variety of ways, including posting positive comments on the nominee's profile page, social media posts, and school and community recognition activities. A resource page with ideas for how to celebrate nominees can be found at http://lifechangeroftheyearnominees.com/showspirit/.
"Every year we hear so many great stories of how people in education are positively impacting the lives of students," said Mehran Assadi, president and CEO of National Life Group. "In order to further acknowledge the valuable role these folks play in our students' futures, we are thrilled to expand the awards from 10 to 16 this year. The quality of nominations we receive speaks volumes about the amazing work being done by the educators and employees in public and private schools across the country."
Nomination Procedures
Anyone can nominate a LifeChanger. Parents, coworkers, community members, students and PTO/PTA members are encouraged to submit nominations for K-12 educators and employees who meet the following criteria:

A proven ability to make a beneficial difference in the lives of students
An ability to positively add to the development of the school's atmosphere
Involvement in leadership activities at the school and/or community level
A demonstrative record of excellent performance at the professional level
A commitment to producing a nurturing atmosphere
Adherence to high moral and ethical standards
Winners are chosen by a national committee which includes teachers, school employees and past LifeChanger award recipients.
Eligibility
All K-12 education professionals and school employees are eligible to participate. Nominees must be full-time educators, teachers, principals or any school staff members who make positive differences in the lives of students. The LifeChanger of the Year will be awarded without regard to race, religion, gender, age, national origin or disability.
Deadline for nomination submissions is January 15, 2016.
To submit a nomination or for more information, visit http://www.lifechangeroftheyear.com.