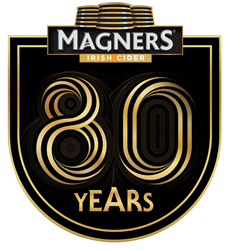 Middlebury, VT (PRWEB) August 20, 2015
Magners® Irish Cider, the world's best-selling Irish cider, has kicked off a nationwide celebration campaign to honor its 80th birthday.
The centerpiece of the campaign will be a series of parties in Magners' top pubs. A total of 80 different parties will be announced the day of the event via the brand's Facebook page using #Magners80. In addition, flagship parties will be held in Boston and New York for consumers, wholesalers and retailers. The anniversary highlights will include giveaways, new mixology, and cider samplings.
"Magners has a rich history as the world's most popular Irish hard cider, and we're excited to celebrate with our fans across the US," said Niamh Parlon, Magners Brand Manager. "Every element of the campaign is designed to honor our Irish roots, while adding a contemporary twist that will guide Magners into future decades."
Born in 1935 in Clonmel, the Irish Cider is made from 17 varieties of apples using techniques dating from the original recipe. With over 150 acres of orchards, Magners is still crafted with native yeast from the original wooden vats used 80 years ago. In the US, the Magners portfolio includes Magners Original (4.5% ABV) and Magners Pear (4.5% ABV). Magners Irish Cider is available in Pubs and retail stores across the United States. Available on draught, 12 oz. and 19.2 oz. bottles, and 16.9 oz. cans, use the locator to find Magners near you.
About Magners Irish Cider
Magners Original Irish Cider is a premium import crafted within the orchards of Clonmel, Ireland, using fresh juice from a blend of 17 apple varieties. It is patiently vat matured to create a unique refreshing taste. When it comes to Magners, 'Now is a Good Time'. William Magner first began cider production in Clonmel, Ireland in 1935. 2015 marks the brands 80th anniversary of cider-making heritage.
Since its introduction to the US in 2000, Magners Original Irish Cider has been a top selling cider in many major regional markets. Magners Irish Cider is now available in more than 50 countries worldwide and continues to grow its presence in the US. Magners is imported by Vermont Hard Cider Company. For more information, visit http://usa.magners.com/
# # #
Samples and hi-res images are available by contacting Caitlin Stroupe, phone and email.