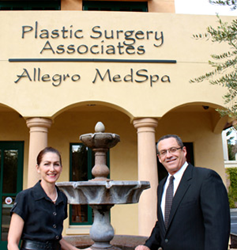 Santa Rosa, California (PRWEB) August 19, 2015
Napa Valley's Plastic Surgery Associate is excited to begin offering patients the latest treatment for facial rejuvenation. Kybella, approved by the Food and Drug Administration in April, is designed to eliminate moderate to severe sub-mental fat, often referred to as a double chin. Plastic Surgery Associates is one of the first practices in northern California to offer the nonsurgical Kybella treatment.
Kythera Biopharmaceuticals developed Kybella, utilizing the body's own Deoxycholic Acid. An organically occurring chemical, Deoxycholic Acid is used by the body to eliminate unwanted fat. By breaking down the outer membranes of targeted fat cells, Kybella is able to erase the targeted tissues. Once the fat cells are dissolved, they are safely absorbed, metabolized, and eliminated by the body.
Applied with a very small needle, each cutting-edge Kybella treatment can consist of up to 50 injections, depending on the severity of submental tissue. For optimal benefits, patients will require between three and six treatments, each spaced four weeks apart. The initial results from Kybella can be seen after only two treatment sessions. As damaged fat cells do not regrow, the final results from Kybella will be permanent.
The founders of Plastic Surgery Associates and Allegro Medical Spa, Dr. Francisco Canales and Dr. Heather Furnas, are pleased to bring Kybella to Santa Rosa. "Our mission is to add joy to our patients' lives; many have been bothered (with their appearance) for years," Dr. Furnas explains. Adding nonsurgical Kybella, to fight submental fullness, can significantly improve self-confidence for those patients not yet ready for a surgical procedure.
Dr. Canales and Dr. Furnas are well known for their work in the field of cosmetic surgery. Together, they bring more than 40 years of aesthetic experience to their Napa Valley practice. Renowned for providing outstanding results, Dr. Canales and` Dr. Furnas have been the recipients of many accolades over the years, including most recently, the title of Best Cosmetic Surgeons in Sonoma County.
Anyone ready to lose their double chin, and restore a sculpted facial contour, should contact Plastic Surgery Associates at 707.537.2111 for more information on Kybella. The luxurious Napa Valley office makes the perfect getaway for facial rejuvenation. A private Kybella consultation will be scheduled at Plastic Surgery Associates, or the adjacent Allegro Medical Spa, where at which time a personalized treatment plan can be established.
Contact:
Plastic Surgery Associates
4625 Quigg Drive
Santa Rosa, California 95409
707.537.2111
http://www.enhanceyourimage.com