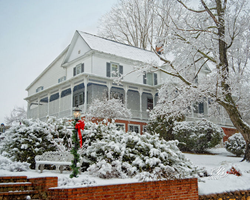 Win this beautiful bed and breakfast in Virginia
Rocky Mount, Virginia (PRWEB) August 20, 2015
All it takes to win the beautiful Claiborne House Bed and Breakfast and have her gift wrapped in time for Christmas is a creative 250 word essay accompanied by a $150 entry fee, and she can be all yours.
The owners of the Claiborne House B&B have decided to offer her for sale for just $150, plus your best essay of 250 words or less. They are following a recent trend which they watched successfully at another bed and breakfast in Center Lovell Maine. They have done their homework consulting attorneys and getting authorization to ensure the essay contest is legal in the Commonwealth of Virginia.
The Claiborne House is a circa 1895 Queen Anne Victorian located in the small southern town of Rocky Mount Virginia, which is also the county seat for Franklin. The Claiborne House has been dishing out hospitality and entertaining guests from all over the USA and world in her 8 bedrooms and 8 private bathrooms with nearly 5000 square feet for 30 years, and is well established in the community.
The inn's 130' wrap around porch is an attractive guest feature where visitors enjoy a morning coffee with views of the Blue Ridge Foothills and town. The winning essayist will step into a fully furnished operational turn-key bed and breakfast business with no mortgage to pay, and no deferred maintenance.
Someone will win this fabulous business and home listed for sale at $549,000 if the owners receive the minimum number of essay entries. They will need to receive 3,333 submissions to hand over the keys to the winner of the most compelling essay, plus the owners are offering $5000 to help with moving expenses.
The current innkeepers, Tony and Shellie Leete have owned and operated The Claiborne House Bed and Breakfast for the last 12 years, raising their two daughters and enjoying a lifestyle B&B with all the perks. They are ready for the next chapter in their lives and are hoping to find the right person or persons to take the reins and fall in love with the Claiborne House and innkeeping as much as they have.
Shellie Leete said "We had hoped to have enough entries by the original September 1, 2015 deadline, but have not so we are extending the closing deadline for entry submission to November 1, 2015" and added "This will make one heck of a Christmas present for someone!"
You can enter to win The Claiborne House Bed and Breakfast more than once; they are allowing online submissions using PayPal and also USPS essays received with U.S. money orders. They invite dreamers to visit their website, blog and Facebook page to learn more about the business and area: http://www.ClaiborneHouse.net
The essay contest to win The Claiborne House is open to non U.S. Residents and anyone over 18 who want to own and operate a lovely B&B in these Blue Ridge Foothills of Virginia. Adventurers are encouraged to apply!
To learn more about the contest and how to enter to Win The Claiborne House Bed and Breakfast you can go to this link: http://winClaiborneHouse.blogspot.com