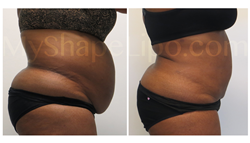 There are many very bad surgeons out there that have proper qualifications, but lack experience and fall victim to unnecessary complications.
Las Vegas, NV (PRWEB) August 20, 2015
According to the American Society for Aesthetic Plastic Surgery, liposuction is now considered the most popular cosmetic procedure in the United States with nearly 400,000 procedures performed each year. With the increase in popularity, there will always be those trying to take advantage of others.
In a recent article published by the Associated Press, August 10, 2015, a "Tucson women gets prison time for liposuction without license." The article states that Mirim Garcia, a Tucson, Arizona woman, didn't have any medical training, education or licensing, yet she was performing liposuction procedures. She allegedly lied to patients and told them that she was a medical professional that was qualified to perform liposuction.
Garcia pleaded guilty to practicing medicine without a license, fraudulent schemes and artifices, and aggravated assault causing serious physical injury. One of her patients had a stroke and was in a coma for months.
Trevor Schmidt PA-C is the owner of liposuction specialty clinic, MyShape Lipo of Las Vegas. Schmidt has performed over 15,000 procedures and specializes specifically in liposuction. His expertise has attracted patients from around the world. In fact, he also trains other physicians how to perform liposuction and fat transfer procedures.
"I'm not surprised to hear that people would go to an unqualified person while in pursuit of cheap services," says Schmidt. "I see this a lot with people going out of the country for the cheaper procedures, unfortunately, they too suffer the consequences of under qualified professionals."
Side effects of surgery can happen to any professional. The qualified professionals are those that understand how to manage the problems and reduce the risks of the procedure. In the hands of an inexperienced practitioner the results could be devastating both cosmetically as well as serious physical injury.
"Liposuction is a procedure like all other surgeries that require repetition to get good consistent results," says Schmidt. "Even qualified practitioners that don't perform many procedures are at a higher risk for poor results. This is why it is so important to choose someone that specializes and has performed at least a few hundred procedures."
Many patients believe that because the doctor has a title behind their name or that they graduated from a prestigious university, they will be a good surgeon. This would be false. "There are many very bad surgeons out there that have the proper qualifications, but lack experience and fall victim to unnecessary complications," says Schmidt.
"At MyShape Lipo, I perform liposuction procedures daily. We have achieved amazing consistent cosmetic results, but equally important, we have not had any serious complications in over 15,000 procedures," says Schmidt. "Our infection rate is 1/10th of the national average, we've had zero liposuction deaths and 84% of our patients return to work within 3 days. With good techniques it is possible to get high quality results safely and consistently."
Schmidt further discusses the importance of experience when performing liposuction procedures. "I get better with practice, just as a basketball player gets better with shooting thousands of free throws. As you are learning, it is inevitable that there will be mistakes. The best surgeons will learn from their mistakes and will be better because of them," says Schmidt. "So it takes hundreds of procedures to experience and learn from before you are really good and consistent."
About MyShape Lipo
MyShape Lipo is a specialty liposuction clinic located in Las Vegas, NV and they attract 70% of their patients from around the world. Patients come for the extensive experience in liposuction and the affordable rates. Trevor Schmidt PA-C, is the liposuction specialist and owner at MyShape Lipo. They offer complimentary consultations in person or via the phone with pictures. To view their galleries of pictures and videos visit http://www.MyShapeLipo.com or call 702-818-5476 to schedule your consultation.