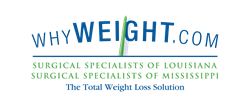 New Orleans, LA (PRWEB) August 20, 2015
The Surgical Specialists of LA & MS are excited to share that the U.S. Food and Drug Administration has approved ORBERA to assist adult patients suffering from obesity in losing and maintaining weight. ORBERA is a safe and effective weight loss solution with 20 years of global experience and real world results. More than 220,000 ORBERA balloons have been distributed worldwide in over 80 countries. We are one of the first in the country, and the only practice in the Gulf South, to offer this new tool in helping people achieve their weight loss goals.
The ORBERA balloon is part of the ORBERA Managed Weight Loss System, a comprehensive, non-surgical program that includes a balloon filling space in a patient's stomach to reinforce proper portion control. Patients will be supervised through out the program by a team of specialists who will help each individual make and maintain major changes in eating and exercise habits. Data on ORBERA collected in the U.S. clinical trial has shown that the average person lost 3.1 times the weight as compared with diet and exercise alone within six months.
"Historically, there have been few options in the gap between diet and exercise and surgery. The ORBERA intragastric balloon is intended for adult patients with a body mass index of 30-40 who have tried other weight loss programs but were unable to lose weight and keep it off," said Dr. Rachel Moore with the Surgical Specialists. "I'm pleased that the FDA saw the value of this minimally invasive treatment option that we can now offer to patients who need to lose 20 to 60 pounds."
Obesity affects more than 78.6 million U.S. adults and is one of the leading causes of preventable deaths in the U.S. It is a chronic disease and the development of new, minimally invasive solutions, like ORBERA, will help transform this epidemic and treat patients before their disease progresses and presents the need for more invasive treatment.
About The Surgical Specialists of LA & MS
The Surgical Specialists of Louisiana and Mississippi at WhyWeight.com is a team of nine bariatric surgeons and support staff who specialize in comprehensive weight loss and wellness for life. Founded in 2000 as an advanced bariatric surgery practice, they have offices in Covington, Lafayette, New Orleans, Slidell, Gulfport and Hattiesburg, MS. To learn more about the surgeons, their services and free weekly seminars, please visit http://www.whyweight.com or call 877-691-3001.
Media Contact:
Kelly Rudolph
kellycrudolph(at)gmail.com
Surgical Specialists of Louisiana and Mississippi
http://www.whyweight.com
877-691-3001