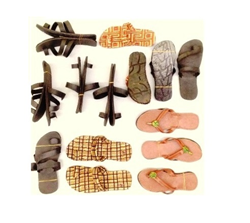 I think people who take the time to really know God's heart find that His will is often less specific for humans individually and actually way more specific for us collectively: how we are to live, care for, treat each other, our environment, etc…
Buffalo, New York (PRWEB) August 20, 2015
Chris Way and a group of young social conscious entrepreneurs have launched The Atinga (ah-ting-ga) Project, a social enterprise that partners with Rwandan artisan-shoemakers to support the sale of their handcrafted footwear, from recycled/repurposed taxi tires, on a global scale.
The word "atinga" refers to the "average, everyday African individual" with "honor, dignity, and humility."
The Atinga Project is a collaborative result of Way and Princesse Nabintu Kabaya's intercultural studies at Houghton College and the four months they spent in Rwanda through the Go ED program.
It was in Rwanda where Chris found his first pair of custom-fitted rugabire sandals.
Motivated by the expert craftsmanship and pride involved in the creating process along with the prompting and support of Kabaya, Way felt a calling to partner with these artisans to sell their sandals directly to US consumers, both providing a quality handmade product and enabling these craftspeople to grow their business and gain financial stability/security, economic opportunity, or "ultimately do their own community development".
"All of this really is/was a big step of faith, requiring smaller steps 'in faith' now as I go along, realizing and following the living active vision that God gave me originally," commented Way. "I think as we live and walk by faith, God reveals His will to us when we consecrate ourselves first to Him and then, perhaps, to a service or work, which then becomes, ultimately, for a bigger purpose than just daily sustenance or just a job."
Way and his team pitched The Atinga Project at Buffalo, N.Y.'s "Startup Weekend 2013," taking third place at the start-up funding competition. The project so impressed the first- and second-place winners that they offered their prizes to Chris, including the development of a new website.
The group of young adults helping Way with The Atinga Project all come from relationships he formed throughout his college career and journey forward.
"Really a lot—I would even say all—of this small company's foundations rest on relationships established along the way, along the path I've tread since my intercultural studies began," said Way.
The Atinga Project's mission is to "promote Western consumer recognition of and response to the local capabilities of African communities, supporting their dignity and development through the sale of their recycled taxi-tire sandals."
The Atinga Project has a goal of selling 300 pairs of sandals by September 1. The leadership has made it clear that an enormous order response is not their goal at this early point. Rather, they aim to build a reliable long-term infrastructure that evolves at a steady pace, allowing the company to best solve supply and scale issues and ensure the mission is met
.
At this time, those involved in The Atinga Project most desire awareness of the business model and to develop a base following of its mission and progress on social media.
"Basically, like or follow us on Facebook … which may sound flippant or superficial—it's not," said Way. "We most want people to truly take the time to connect with what Atinga means to them. Does Atinga connect with them in the area of giving; of fighting poverty; of socially conscious consumerism; of eco-friendly products/values; of vegan values; of quality, highly durable, uniquely handcrafted artisan-made footwear? ... Whatever it is, there really is something about the social enterprise that should resonate with all people, especially Christians. We want people to 'walk a mile in their [Rwandan artisans] shoes'."
Way has formed a formidable team of fulltime, part-time, and contracted partners, employees and interns. The other initial key members of the Atinga Project team are Alex Burgos, Megan Toombs, and Jean (Nsekuye) Bosco. Other key people include Princesse Nabintu Kabaya , Connor Vogan and Emily Barry.
The Atinga Projects multimedia has been in large part produced by Wes Dean, Nate Cronk and Raphael Derungs of Intermotion Media along with Cory Martin's independent work.
Way also credits ongoing counsel support from Dr. Ndunge Kiiti and Dr. Ron Oakerson, professors with the Department of Intercultural Studies at Houghton College along with Michael and Adele Pucci of the Go-Ed program.
"I think people who take the time to really know God's heart find that His will is often less specific for humans individually and actually way more specific for us collectively: how we are to live, care for, treat each other, our environment, etc…,"commented Way.
The Atinga Project invites people to visit and engage with their Facebook page at http://www.Facebook.com/TheAtingaProject and to use the hashtags #SpreadTheTread and #TreadForChange.
For more information about the company and to order footwear, you can visit their website at http://www.AtingaProject.com.