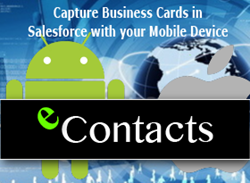 "The new eContacts features will not only help instant communication within companies, they will also speed up sales cycles, as sales representatives are armed with the right information at the right time."
Fairfield, NJ (PRWEB) August 20, 2015
Vision-e announced the new release of eContacts, a mobile iOS and Android app that uses OCR technology to scan business cards and turn them into leads and contacts. The updated features enable quick communication between sales managers and representatives, increasing sales productivity.
Jule Limoli, Chief Executive Officer of Vision-e, said the new features are part of the company's efforts to continue innovation and to help its customers with their sales processes. "The new eContacts features will not only help instant communication within companies, they will also speed up sales cycles, as sales representatives are armed with the right information at the right time," Limoli said.
New eContacts Features
The new version of eContacts now maps out tasks for users once a new business card lead is scanned and uploaded. Managers can now tag sales reps using the @ symbol and the hash tag symbol can be used to categorize the lead by campaign. New organization-wide settings ensure that reps have visibility of new leads and tasks. Additionally, in an effort to serve more international customers, eContacts is now available in Spanish.
To access the new features, customers can download the latest version here.
About Vision-e:
Vision-e is a Salesforce ISV partner and provider of sales solutions that help businesses of all sizes and budgets streamline their organization to become more productive, efficient and profitable. Founded by sales professionals who believe customers come first, no matter what, Vision-e provides one-of-a-kind business productivity applications and customized, enterprise services from certified Administrators.
For more information on Vision-e, go to http://www.Visione.com or call 1-888-611-2679. Vision-e is headquartered in Fairfield, NJ.