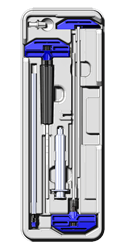 Avon, MA (PRWEB) August 20, 2015
Ranfac Corp.™, maker of the patent(s) pending Marrow Cellution™ Bone Marrow Stem Cell Harvesting System has added the ability to percutaneously harvest a bone dowel using the systems introducer cannula. Available in the MC-RAN-8 model, users can now harvest a bone dowel and aspirate marrow using the same device for use in a variety of orthopedic procedures such as non-union, osteonecrosis, OMF and spine.
The Marrow Cellution™ System allows the user to harvest bone marrow in small amounts in a measured and controlled manner over a large geography inside the marrow space. Independent research has demonstrated that smaller aspirations over a greater sampling area increases cell yield by reducing peripheral blood contamination.
More details can be found on the official Marrow Cellution™ website at http://www.marrowcellution.com.