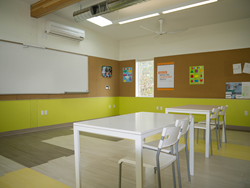 "We are bursting at the seams. The greatest need is a place for students to learn. And, we want students to have spaces they can learn well in."
Redmond, WA (PRWEB) August 24, 2015
Teachers report back to work Monday, August 24th, throughout the Lake Washington School District; some to new classrooms. The third fastest growing school district in the Puget Sound region invests in its future by going green and opening 13 new Smart Academic Green Environment (SAGE) classrooms http://sageclassroom.com/. Director of Student Services Forrest Miller says "We are bursting at the seams. The greatest need is a place for students to learn. And, we want students to have spaces they can learn well in." The dynamic relocatable classrooms are a combined effort between Pacific Mobile Structures (PMSI), Portland State University's School of Architecture and Maseeh College of Engineering and Computer Science and Blazer Industries to create a cost-efficient "green" modular classroom that will endure the test of time twice as long as standard portable classrooms.
Now, throughout Washington and Oregon 45 SAGE classrooms will accommodate almost 1,400 students each day this school year. Those students will reap the benefits of four times more natural light, 100 percent fresh air, and 150 percent more air circulation than traditional relocatable classrooms. Students will notice comfortable temperatures and the fact they may never need to turn on the lights; thanks to the vaulted ceilings and additional windows.
SAGE uses environmentally friendly manufacturing processes minimizing material waste and takes one-third less time to build than a standard modular structure. The SAGE interior features an energy-efficient HVAC system, low velocity fans, BIO Phase Chang Material in the walls and continuous dimming luminary lighting. The size dimensions of the building allow for a door threshold that is closer to the ground, reducing the costs associated with building a foundation, stairs and ramps.
Edmonds School District leaders initiated, the project last year, purchasing 12 SAGE classrooms. They added 18 more of the SEED (Social Economic Environmental Design) Award-winning classrooms to their campuses for the upcoming school year; ensuring even more students will learn by natural light while breathing fresh air. LWSD anticipates positive results too. Its administrators already plan to order six more SAGE classrooms for the 2016-2017 school year.
Pacific Mobile Structures: Family-owned and operated since 1983, Chehalis-based Pacific Mobile Structures, Inc. provides flexible, cost-efficient, high-performance modular facilities designed for comfort, durability and energy efficiency. The company builds quality office, educational and other facilities for sale or lease, backed by the best customer service in the commercial modular construction industry. For more information, http://www.pacificmobile.com
Media Contacts:
Amanda Brittcomer: Pacific Mobile Structures (360) 623-5928 or amanda(at)pacificmobile.com
Shannon Carr-Cohen: Pacific Mobile Structures (360) 669-6914 shannon.carr-cohen(at)pacificmobile.com