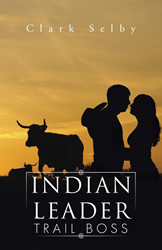 I've loved tales of Western adventure, independence and drama since I was a child.
KANSAS CITY, Mo. (PRWEB) August 20, 2015
Leading a cattle drive was one of the most exhausting and dangerous jobs available in the Wild West, but at least the longhorns didn't try to kill the cowboy. Add fleeing from thugs out for blood to the process and the cattle driver is in for a rough time.
In Clark Selby's new novel, "Indian Leader Trail Boss", Indian Leader is so renowned for his skill during these drives that he is hired on to lead 3,000 longhorns across an incredible distance. The only problem is that by the time he arrives at the ranch, his boss has been murdered, and Indian Leader is forced to go on the voyage with the rancher's daughter in tow while the murderous gang pursues him.
"I've loved tales of Western adventure, independence and drama since I was a child," Selby said. "Finally, the time came for me to add my own entry to the genre of stories that I grew up with."
"Indian Leader Trail Boss" maintains a commitment to replicating both the serenity and the danger of the Wild West. Indian Leader himself faces the greatest challenge of his life, and combined with this adventure he finds himself developing feelings for the rancher's daughter he saved.
The Wild West novel has roots in generations of American storytelling. In an age of cell phones and unpiloted drones, it's a way for readers to go back to a simpler time when every new day led to new sights and new dangers under the blazing Wild West sun.
For more information, visit clarkselbyauthor.com.
Indian Leader Trail Boss
By Clark Selby
ISBN: 978-1-4907-4479-7
Available in softcover, hardcover, e-book
Available on Amazon, Barnes & Noble, Google Play and Trafford Publishing
About the author
Clark Selby was born in Miami, Oklahoma, but he and his wife live in Springfield, Missouri. Clark's work took him to more than sixty countries on six continents. He and his wife plan to spend as much time as possible traveling and exploring while their health allows. Clark loves writing novels and plans to release more novels in the Western style.
# # #
For review copies or interview requests, contact:
Craig Cainkar
(317) 602-7137
ccainkar(at)bohlsengroup(dot)com