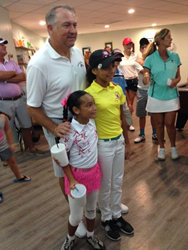 "Our goal was to raise more scholarship money and more than anything, make sure that the kids and their families had an enjoyable day. Both goals were met and it was terrific to spend time with the kids and their parents."
Boca Raton, Florida (PRWEB) August 20, 2015
St. Andrews Country Club and their Pro Emeritus, Bob Toski joined together to host the Third Annual Bob Toski Junior Golf Tournament to provide a competitive arena to 70 local boys and girls aged 7-18. This year, the generosity of St. Andrews Country Club members enabled tournament organizers to award two $4,500 scholarships, a $3,000 increase over last year's scholarship figures.
After warming up on the club's expansive driving range with one-on-one assistance from PGA Touring Professional Ken Duke and Toski, the junior golfers played 18 holes in three age groups for girls and boys. Girls age 7-9 and boys age 7-10 played nine holes. During a brief rain delay, the kids and their parents enjoyed the fabulous amenities in the St. Andrews Rec Room while hanging out with the pro golfers. After the tournament, everyone enjoyed a barbecue buffet and ice cream and an awards ceremony with trophies and prizes for the top players in each division. Not only was it a great day of golf, but also a day of fun for the kids and their parents.
"Ever since I began at St. Andrews back in the 80's, they have made continuous efforts to give back to the community in any way they can," said Toski. This year's goal for our tournament was to raise more money for the kids and with the help of the St. Andrews membership we met our goal. I couldn't be more thankful, especially to Ed Rice, President, Craig Martin, General Manager, the entire St. Andrews professional and golf staff and of course, the generous help and ongoing support of the members," continued Toski.
"When I first heard about this tournament and how much it would benefit the children, I couldn't help but make sure that we got the chance to host it," said Board President, Ed Rice. "Our goal was to raise more scholarship money and more than anything, make sure that the kids and their families had an enjoyable day. Both goals were met and it was terrific to spend time with the kids and their parents."
"It is our brand and member promise to contribute to activities and events that help strengthen our local community", said Craig D. Martin C.C.M., General Manager and COO of St. Andrews Country Club. "There is nothing more rewarding than being able to give back to the children of our community and support their higher education."