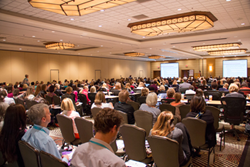 This playground technique provides opportunities for neurodevelopment, sensory development and social participation of children.
Denver, CO (PRWEB) August 20, 2015
Occupational therapy on playgrounds is the focus of the October 8, 2015 Pre-Conference Institute held by the Sensory Processing Disorder Foundation and taking place in Orlando Florida. This playground technique provides opportunities for neurodevelopment, sensory development and social participation of children.
The presentations will be followed by an afternoon field trip to explore a playground designed for children ranging in age from toddler to upper elementary. The field trip will assist Occupational Therapists, other professionals and parents to build a "Playground Toolkit" for intervention that can take place in a natural setting. Participants will leave with an understanding of playground design features that will allow them to use any playground as an adjunct to their indoor therapy space or instead of indoor space as a basis for working with a child who has sensory challenges. "This is a very exciting way to do therapy in a natural setting. We are using a whole new level of creative solutions, in which therapists can supplement their typical tools and use outdoor play to regulate a sensory sensitive child. Once they are in a learning zone breakthroughs can occur for children with sensory challenges," says Dr. Lucy Jane Miller of SPD Foundation, who will direct the Institute.
In addition to Dr. Lucy Jane Miller, the Pre-Conference Institute speakers include;
Dr. Sarah A. Schoen, John McConkey, Ingrid Kanics, and JT Almon.
Following the Pre-Conference Institute October 9 and 10 is International 3S Symposium main workshops including distinguished speakers and world renowned faculty presenting the latest findings on Sensory Processing Disorder research, evidence based treatment, and evolving SPD field trends. Among the presenters are: Lucy Jane Miller, PhD, OTR/L, SPD Foundation; Grace Baranek, PhD, OTR/L, University of North Carolina at Chapel Hill; Gil Foley, PhD, The New York Center for Child Development and Adelphi University; Lois Gold, OTR, Occupational Therapy Center for Pediatric Therapy, Inc; and Sophie Molholm, PhD, Albert Einstein College of Medicine; Tim Conway, PhD, The Morris Center. Carol Stock Kranowitz, Author of The Out of Sync Child will deliver a lunch workshop and several other experts in the field of SPD will be speaking during the event.
The SPD Foundation is encouraging advanced registration to the event as last year's event was sold out. Professional attendees of the Symposium are eligible to receive AOTA CEUs. To be an event sponsor or exhibitor at the 18th Annual 3S Symposium click here.
About SPD Foundation:
The SPD Foundation is a world leader in research, education, and awareness for Sensory Processing Disorder, a neurological condition that disrupts the daily lives of many children and adults. Originally called the KID Foundation, SPDF has been providing hope and help to individuals and families living with SPD. Our mission to improve the lives of children and adults with Sensory Processing Disorder (SPD) and their families through research, education and increased global awareness. Our Vision: a future in which every child with SPD is identified and treated by age 6.