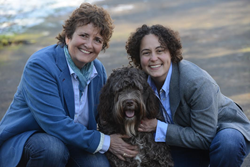 "We're proud supporters of wedgie and chafe free zones!" Fran Dunaway, CEO
SEATTLE (PRWEB) August 26, 2015
TomboyX creates menswear-inspired clothing for women. With over 73,000 Facebook fans, married co-founders Fran Dunaway and Naomi Gonzalez have hot new women's underwear products on their hands—including women's boxer briefs and more—and a growing group of loyal customers they want to meet. So they're heading out across the US, in a custom-wrapped RV, for the "Not Your Granny's Panties" tour.
"We love our fans, and we are very excited to get out there and meet them, and to show off our undies," says Dunaway, CEO. "Comfy underwear is important to me and it turns out, important to all of us," says Dunaway. "When we introduced our first women's boxer brief we thought it would be the 'tail on the dog' of our business, but it turns out it is the 'dog.' In May, we added new styles, and sold out in 2 weeks. It is clear there's an unmet need and we decided this category needed a new approach—a customer driven approach. We're proud supporters of wedgie and chafe-free zones."
Gonzalez, COO, adds, "Customers send us photos and stories every day about how much they love and appreciate the range of styles, and the joy of feeling comfortable in their own skin. We hear a lot from our women in uniform, sports enthusiasts, and so many women who used to borrow their husband's boxers - but they didn't fit right. It all began when our good friend Carma brought us a pile of her men's boxer brief undies she has worn for years. She's a police officer and traditional women's underwear just didn't work well under her uniform. She shared all the nitty-gritty details (beyond the obvious) of what was wrong. We decided something had to be done. Our 'Good Carma' boxer brief is named in her honor. In keeping with the police theme, we call the shorter version the 'Feeling Frisky.'"
Julie Nomi, Head of Product Development & Sourcing, says, "TomboyX is taking women's underwear to a brand new place, and we are 100% dedicated to quality and comfort. We put a lot of time and thought into the cut and waistband position, as well as selection of super soft, durable fabrics. We know that you will feel good--from the first moment you put on our briefs to four-hundred-and-twenty washes later."
According to Gonzalez, "We'll be posting updates via #NotYourGrannysPanties, and also using the TrackMyTour mobile application so that our customers can be a part of the conversation, even if they can't join us during the tour."
About
Seattle based TomboyX was established in 2013 and has been featured in GeekWire, The Lingerie Addict, SheWire, LA Times, Huffington Post, Seattle Magazine, and Curve Magazine. The co-founders began with a successful Kickstarter campaign and participated in MergeLane, a Colorado based accelerator program. They recently took home the grand prize of the National Gay and Lesbian Chamber of Commerce LGBT Biz Pitch Competition.