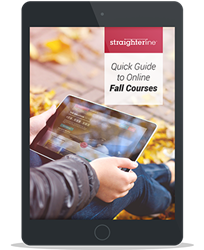 Baltimore, MD (PRWEB) August 20, 2015
StraighterLine, the low-cost online college course provider, today released "The StraighterLine Quick Guide to Online Fall Courses" to help students quickly make informed decisions around taking online courses and getting the college credit they need for their degree.
Taking courses that will transfer into your degree program is often necessary, but choosing which courses to take online can be confusing. The Online Fall Courses Guide walks students through the top reasons to take classes online this fall and provides important tips about online credit transfer.
Key takeaways from the guide include:

Top reasons to complete your courses online
How to reduce financial risk, save money & get guaranteed credit transfer
Find out what it takes to succeed in an online class!
"College tuition has risen four times the rate of inflation while most families' resources have declined," says Burck Smith, StraighterLine's founder and CEO. "StraighterLine was built to fix that. Our college savings network lets students spend up to 60% less, get real academic credit, and receive the same degree they would have otherwise."
Read a guide preview here: http://www.straighterline.com/blog/straighterline-quick-guide-to-online-fall-courses/
Download the guide "2015 Quick Guide to Online Fall Courses" here: http://www.straighterline.com/landing/online-fall-courses-guide/
StraighterLine solves the number one issue facing students today – the skyrocketing cost of college – with low-cost, high quality online college courses that prepare students for success. Serving over 15,000 students a year, StraighterLine combines a $99 a month college course subscription with guaranteed credit pathways to accredited degree programs to save up to 60 percent on the total cost of a degree.
StraighterLine takes the worry out of transfer with a College Savings Network of over 90 accredited colleges that guarantee credit acceptance of StraighterLine courses.
Having been evaluated and recommended by the American Council on Education's College Credit Recommendation Service (ACE CREDIT), StraighterLine courses will also be considered by more than 2,000 other colleges and universities for transfer to their degree programs upon request.