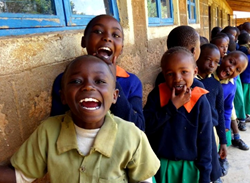 The challenge was, "How might parents in low-income communities ensure children thrive in their first five years?"
(PRWEB) August 25, 2015
In November 2014 HopeCore accepted an online challenge conducted by IDEO.org aimed at generating creative, innovative, and collaborative solutions to the world's problems. The challenge was, "How might parents in low-income communities ensure children thrive in their first five years?" There were 441 ideas submitted to this challenge. Over the next 2 months, HopeCore staff worked collaboratively with experts from around the world to respond to questions and refine their ideas.
Working with an international audience, HopeCore was able to make the program clearer and potentially more effective. This all paid off as in May 2015, HopeCore was chosen as one of only three ideas to receive funding for an idea bringing them onto the international scene of global health.
HopeCore launched its new health program in May 2015. The program focuses on four modalities of maternal and child health: educate, prevent, treat, and advise. It has begun with 40 primary schools with the hope to expand to all 133 primary schools in the Maara Sub-County of Kenya. A health hotline will be available 24 hours a day, 7 days a week to any community members with health-related questions or concerns as well as a program to support the most vulnerable families, including pregnant women.
"This is a great day for us as it marks the moment that our programs have entered the international health and development arena and have been selected by an international jury to be the very best of the crop," said Dr. Phil Rasori, Village HopeCore International Medical Director. "Our organization that started with twelve women, two men, and five thousand dollars is now beginning to affect how health and development is conducted far beyond the Chogoria area."
By introducing the mother and child wellness program as part of their health program, HopeCore is working toward prevention from an earlier age so parents will have fewer health concerns and expenses related to their children, thus allowing them to focus on economic productivity. This new program will affect 22,000 mothers and their children, building on the 45,000 children already handled through other health programs. With the support of IDEO.org, this project seeks to grow to impact 100,000 families in 516 villages.
Village HopeCore International (HopeCore) is a small, innovative 501(c)(3) non-profit organization, registered as a non-governmental organization (NGO) in both Kenya and the United States. Through microenterprise projects, clinical health services, and health education interventions, HopeCore is empowering people and improving the health of Chogoria and the surrounding communities. The entire budget of the U.S.-based operations is underwritten by generous donors on the Board of Directors, which permits 100% of the money raised from grants or other donors to be spent in Kenya. HopeCore is dedicated to fostering integrated social and economic development in rural communities in Kenya.
Village HopeCore International
A Nonprofit Tax-exempt 501(c)(3) Organization, ID number: 95-3841347
10100 Trinity Parkway, Suite 310
Stockton, CA 95219 ~ Phone: (209) 473-1040
http://villagehopecore.org/