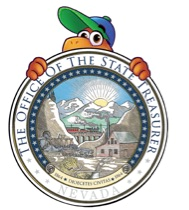 We want every single child to know college is a realistic and attainable goal.
Carson City, Nev. (PRWEB) August 20, 2015
The Nevada State Treasurer's office will debut a new campaign Thursday to increase awareness of the college savings programs provided by the State Treasurer's Office and encourage Nevada parents to open college savings plans for their children. "Let's Go To College - Nevada Saves," will focus on educating both parents and children about the college savings plans Nevada offers.
"Nevada has incredible college savings plans with unique benefits for Nevada residents, but few people are taking advantage of them," said Dan Schwartz, Nevada Treasurer. "Saving for college can be daunting, but if you plan and save early on then it's manageable for everyone."
As part of the campaign, Nevadans will be introduced to Sage, the College Savings Desert Tortoise. Sage will engage children, telling them the benefits of saving for and attending college. This is the first time the Treasurer's office has initiated a comprehensive, coordinated campaign promoting all of the college savings plans offered under one umbrella plan. Previously each program was marketed separately. By putting all of the programs under one umbrella, families can determine which plan or plans work for them.
"We want families to know all of their options and make decisions that make the most sense for them," Schwartz said. "This is an $800,000 investment in Nevada's future funded entirely by our national college savings investment partners. (No taxpayer dollars are involved.) With the recent legislation establishing Education Savings Accounts (ESAs), the employer tax credit for matching employees' contributions to 529 accounts, and "Read by Three," Nevada is becoming a leader in education reform. This campaign goes hand-in-hand with these efforts."
"If kids know they have a college savings account in their name, they are 7 times more likely to attend college," said Schwartz. "We are building a culture of education. We hope to change a generation; and with them, the path of Nevada's future. We want every single child to know college is a realistic and attainable goal."
Additionally, the campaign includes materials for educators to use in the classroom; four television commercials; an increased presence on social media; a new website for parents and families to more easily see all of their options; and appearances by Sage throughout the state.
Plans include the Nevada Prepaid Tuition Program, Nevada College Kick Start, SSGA Upromise 529 Plan, Putnam 529 for America, the Vanguard 529 College Savings Plan and the USAA 529 College Savings Plan. To learn more about any of these programs please visit http://www.NV529.org.
Click here to view the ad: https://youtu.be/gbrn-OF91fY
###