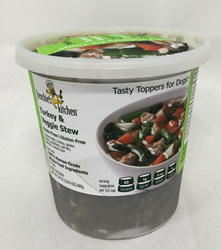 "I have seen first-hand the health benefits of whole food nutrition for dogs through my work with holistic vets throughout the country." Sara Kuris-Morgan, Founder, Frenchie's Kitchen
Corpus Christi (PRWEB) August 19, 2015
Frenchie's Kitchen entered the dog food market with a goal of providing the healthiest possible ingredients in their products. By their definition, this has meant using human grade ingredients in everything they make, and processing all of their food in a USDA Human Food Facility. In addition to using human grade ingredients, Frenchie's Kitchen has also chosen to use only "whole foods" in their dog food products. "Whole Foods" are those that are in their natural state—fruits, vegetables, whole grains, etc., that have not been refined or processed in any way. Because "whole foods" are in their original, natural state, they have the highest levels of vitamins and minerals.
Frenchie's Kitchen's founder, Sara Kuris-Morgan, knew that using human grade, cooked ingredients would create a brand new category of dog food called "Gently Cooked." In her opinion, this was the only option when it came to advocating for healthier dogs. "I have seen first-hand the health benefits of whole food nutrition for dogs through my work with holistic vets throughout the country," said Ms. Kuris Morgan. "Seeing how these whole food ingredients literally changed the health and life of my own French Bulldog, Romeo, and countless other dogs, made it clear to me that dogs should be able to eat REAL food for their entire lives if possible." This is how Frenchie's Kitchen was born.
Ms. Kuris-Morgan introduced Frenchie's Kitchen's new "Tasty Toppers for Dogs" at the Super Zoo trade show in Las Vegas last month, and the response to her company's new product offering was tremendous. "Many dog owners feed their dogs a kibble diet because it is the most cost-effective option for them," said Ms. Kuris-Morgan. "With these new toppers, all dog owners will be able to give their dogs a healthy addition to their kibble at an affordable price of $6.95 for 24oz. This is why our new 'Tasty Toppers for Dogs' are so fantastic; our dogs depend on us to make the best choices for them, why not give them the very best? Frenchie's Kitchen human-grade dog food is the answer when it comes to feeding your dog the healthiest possible product out there!"
Frenchie's Kitchen's new "Tasty Toppers for Dogs" are sold frozen and are now available in two varieties: Chicken and Veggies Stew and Grain-Free Turkey and Veggies Stew. Because of their all-natural, whole food ingredients, "Tasty Toppers for Dogs" provide an added boost of natural vitamins and minerals to a dogs' diet, without adding a lot of calories. As with all Frenchie's Kitchen products, there are zero additives or preservatives included; which is also why they come frozen…so preservatives do not have to be used.
Frenchie's Kitchen began in 2007 when its founder, Sara Kuris-Morgan, started preparing prescription meals in her own kitchen for a holistic vet. Shortly thereafter Frenchie's Kitchen entered the pet industry on a broader scale with the first gently cooked, frozen food brand for small-to-medium-sized dogs. All ingredients used in Frenchie's Kitchen products are healthy whole foods, use 100% human-grade ingredients, and are prepared in a USDA Human Food Facility. To learn more about Frenchie's Kitchen and its products, visit http://www.frenchieskitchen.com.