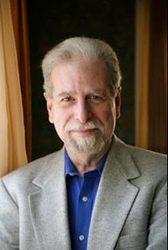 As a renowned international author and lecturer, Joe Cambray brings a tremendous range of knowledge and expertise in higher education, as well as experience leading a global organization advancing depth psychology around the world.
Santa Barbara, CA (PRWEB) August 19, 2015
Pacifica Graduate Institute is an accredited higher education graduate school, and announces the promotion of Dr. Joseph Cambray as Provost of the Institute. "As a renowned international author and lecturer, Joe Cambray brings a tremendous range of knowledge and expertise in higher education, as well as experience leading a global organization advancing depth psychology around the world," stated Dr. Stephen Aizenstat, Chancellor and Founding President of Pacifica Graduate Institute.
"On behalf of the Board of Trustees and the Pacifica community, we are pleased to welcome and give a warm, deserving congratulations to Joe Cambray as a prestigious international scholar to further advance our transformational academic programs," stated Dr. Thyonne Gordon, Pacifica Board Chair.
"As Provost, I look forward to building upon and enhancing the academic and clinical excellence already established at Pacifica, integrating the most current research from numerous, relevant fields of inquiry," stated Dr. Cambray. "I also am excited to apply my experience working in the international depth psychological community to help foster the expanding diverse, multicultural education which has been developing here and to increasingly include scholars from around the world. In this I'm delighted to continue the critical collaboration already in place with Pacifica's Chancellor, Dr. Stephen Aizenstat, the current Provost and Academic Vice President, Dr. Patricia Katsky, and the Institutional Management Council team."
Pacifica's Board of Trustees and management recognize Dr. Katsky for her many years of extraordinary dedication and leadership, and she will step into the role of Vice-Provost to support the transition.
As the International Association for Analytical Psychology (IAAP) Past-President from 2010 to 2013 and an officer of the IAAP board for twelve years, Dr. Cambray brings a range of intellectual, academic, and administrative expertise to complement Pacifica's vibrant community of leading scholars. He was President of the C. G. Jung Institute of Boston, U.S. Editor in Chief of the Journal of Analytical Psychology, and served on the editorial board of Jung Journal: Culture & Psyche. He was also a faculty member at the Center for Psychoanalytic Studies, Massachusetts General Hospital; Department of Psychiatry, Harvard Medical School; and Visiting Professor, Kyoto University, Graduate School of Education.
He currently is a Regional Organizer for Asia on the IAAP's Educational Committee. Dr. Cambray's publications include "Synchronicity: Nature & Psyche in an Interconnected Universe" (Fay Lecture Series); "Analytical Psychology: Contemporary Perspectives in Jungian Psychology", co-edited with Linda Carter; and, numerous articles, book chapters and professional reviews. In addition, he served on various editorial boards, such as the Israel Annual of Psychoanalytic Theory, Research and Practice and Psychoanalytic Psychology, the professional journal of Division 39 of the APA.
In addition to national and international academic credentials, Dr. Cambray brings strong organizational expertise and a depth psychological sensibility to support Pacifica's growing outreach to the global community. His earlier experience also includes working as a clinician in a mental health center for seven years, where he became the director of the mental health department and managed a group of clinicians and staff.
For more information on Dr. Joseph Cambray and Pacifica Graduate Institute, you may contact Heidi Townshend, Director of External Affairs: 805-879-7374 or htownshend(at)pacifica(dot)edu.
***************
Pacifica Graduate Institute is a WASC-accredited graduate school with two campuses in Santa Barbara, California, offering masters and doctoral degree programs in depth psychology, mythological studies, and the humanities. The Institute has established an educational environment that nourishes respect for cultural diversity and individual differences, and a rigorous academic community with a spirit of free and open inquiry. Students have access to an impressive array of resources including the OPUS Archives and Research Center.
The mission of Pacifica Graduate Institute is to foster creative learning and research in the fields of psychology, the humanities, and mythological studies, framed in the traditions of depth psychology. Consistent with and supporting this vision, Pacifica Graduate Institute is employee-owned, and practices shared stewardship.
Pacifica Graduate Institute Alumni Association
Opus Archives and Research Center
Pacifica Bookstore