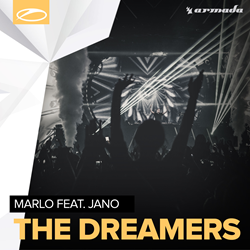 Said Armin van Buuren, 'MaRLo knows how to program the best lead sounds.'
New York, NY (PRWEB) August 21, 2015
Melodic. Upbeat. Inspirational. Electronic dance music producer MaRLo has a unique means of creating music that's uplifting and positive without sounding saccharine. MaRLo's latest single, "The Dreamers" featuring Jano (Armada Music) is out now. The impeccably-constructed song also appears on Armin van Buuren's 'A State of Trance at Ushuaïa, Ibiza 2015' (Armada Music) album.
The Radio Edit possesses an impossibly luscious intro that sparkles with cinematic intensity. A deftly played piano riff is joined by swooning orchestral strings as the listener is taken under MaRLo's spell. Soon, Jano's superb vocals appear upfront in the mix singing an infectious lead-melody that makes this song at once a great festival tune and also fit for radio. It's been said that MaRLo is among the most skilled electronic dance music (EDM) producers at composing lead melodies, be they leads recorded with synthesizers or with a human voice. The strain of the main chorus, "I know that we / Are the dreamers," becomes an ear worm that is quickly burned into the memory of all who hear the song. The synth progression on the Radio Edit builds and builds as the song readies to take flight, with its strumming synths and swelling buildup of crystal-clear percussion. Closing one's own eyes, this song evokes visions of youthful daisy-wearing partiers running through summer fields, beaming hand-in-hand with friends. In the sonic world MaRLo creates, people are surrounded by art, sunshine and music. "The Dreamers" dares to proclaim that in this world, it's safe to love strangers.
The Original Mix uses a brutal percussion on the intro that clearly states that we are here to party. The synths build with tension until they explode into a signature "MaRLo-sounding" synth progression heralding a brighter day. The dramatic acoustic intro leads seamlessly into Jano's vocal bearing the main theme of the song. MaRLo does an expert job at manipulating soundwaves in a perfect balance between dancefloor mayhem and sentimentality with this mammoth tune. On the Original Mix, the 4/4 beat is insistent, the bassline forward propelling, and Jano's vocal deliciously beckoning. As a producer and dancefloor wizard, MaRLo has nailed it again.
MaRLo (real name: Marlo Hoogstraten) is a Dutch-born electronic dance music producer raised and currently based in Australia. He produces and performs a style of electronic music known as trance and he has a fervently devoted fanbase from around the world. After years of hard work and dedication to his art, MaRLo is today considered the #1 trance DJ in Australia and he has a string of #1 charting hits on Beatport. His unique style – affectionately dubbed "The MaRLo Sound" by his fans – derives from the sub-genres of tech-trance, hard-trance and the big room sound. MaRLo considers as his musical influencers such accomplished fellow DJs and producers as Armin van Buuren – to whose record label, Armada Music, MaRLo is signed – Aphex Twin and The Prodigy. In the recording studio, MaRLo has lent his magic touch to remixes for fellow trance heavyweights, Dash Berlin, Ferry Corsten, W&W, Gareth Emery and Armin van Buuren. As a live performer, MaRLo delivers explosive physical energy and showmanship. He has DJd in front of capacity-sized crowds at the world's top nightclubs and festivals, including: Ushuaïa in Ibiza; TomorrowLand in Belgium; Ultra Music Festival in Miami; Creamfields in the UK; Stereosonic in Australia; Beyond Wonderland in the U.S., and this year, TomorrowWorld in Atlanta.
MaRLo is best known for his international hits, "Haunted" featuring his wife, the vocalist Jano, and "Atlantis." The latter peaked at the #1 chart position on Beatport earlier this year. But perhaps the track for which MaRLo is most instantly defined in the eyes and ears of today's youth is his original production, "Visions," a monstrous, epic thriller originally released in 2012. To this day, "Visions" is demanded by crowds and the track causes dancefloors to quake. Armin himself personally commented that, "MaRLo knows how to program the best lead sounds." Witnessing the jubilant havoc wreaked whenever MaRLo takes over the DJ decks, it appears Armin was right all along.
For more information on MaRLo, contact EMILY TAN Media Relations in the U.S., +1(917) 318-3758, EmilyEmilyTan(at)aol(dot)com. Visit http://www.facebook.com/marlomusic and http://www.ArmadaMusic.com. Follow EMILY TAN Media Relations on Twitter @EmilyEmilyTan.
# # #