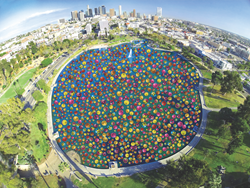 "There has never been a lake that will look like this one. We hope that this encourages creative thinking for revitalization on the part of civic leaders everywhere. Public art can be a great asset when utilized ambitiously."
Los Angeles, CA (PRWEB) August 20, 2015
World-renowned foundation Portraits of Hope's highly anticipated launch of the exhibition of Spheres at MacArthur Park will be on Saturday, August 22nd. This is exciting not only for all the volunteers, but also for the revitalization of the iconic MacArthur Park. MacArthur Park sits in the heart of Los Angeles and is home to a large urban lake that comprises 7 football fields in total surface area.
For four weeks this summer, MacArthur Park will experience a visual transformation as floating spheres spread throughout the lake as part of a major public art, revitalization, and civic project. The restoration of Los Angeles's Historic Cultural Monument has been in effect since the early 2000s, when the City of Los Angeles realized the once iconic park was declining in visitors.
This event is the result of continued efforts from volunteers, local businesses and founders Ed and Bernie Massey. Co-founder Bernie Massey states, "We are very proud that every demographic of Los Angeles has been engaged and collaborated on this initiative. This project is about community building and positive civic engagement. There are so many possibilities for it to happen more often." Portraits of Hope has teamed up with the Braille Institute, Plaza El Segundo, and The Point to create Los Angeles' largest civic art project and has been featured in local news publications such as CBS, KCAL9, and Los Angeles Times.
The Spheres at MacArthur Park will culminate in the installation and exhibition of a one-of-a-kind floating artwork -- encompassing hand-painted inflatable spheres -- for and on the surface of the MacArthur Park Lake. The huge floating spheres painted in brightly colored floral and aquatic designs will range in size from 4 - 6 ft. in diameter making for fantastic vistas at the park. Co-Founder Ed Massey announces, "There has never been a lake that will look like this one. We hope that this encourages creative thinking for revitalization on the part of civic leaders everywhere. Public art can be a great asset when utilized ambitiously."
Portraits of Hope's next big initiative will be beautifying animal shelters across the country to make them more appealing as a way to promote animal adoptions. Whether they are deeply impacting the lives of disabled children, saving the lives of animals or beautifying public space, you will definitely want to keep an eye out for all that Portraits of Hope is doing to make the world a brighter, happier place.
ABOUT THE SPHERES AT MACARTHUR PARK
This latest Portraits of Hope public art and civic initiative is a continuation of the program's large-scale, national projects which have visually transformed public settings and symbols ranging from the NYC taxi fleet, blimps, planes, boats, and buildings to LA's coastal lifeguard towers, NASCAR race cars, laundromats/lavanderias, and frontline fire and rescue vehicles.
Children and youth in Los Angeles and Southern California, among others, are participating in Portraits of Hope art, creative therapy, and civic leadership sessions in schools and hospitals in which much of the art is being created. Much of the vibrantly-hued art is floral themed -- as the flower is the universal symbol of beauty, joy, life, inspiration, and renewal. The flower is a theme integral to Portraits of Hope. Spheres with aquatic designs are also being created for the exhibition.
POH has gained near 10,000 persons in Southern California to participate in the initiative. Up to 7,000 spheres will have been created for the project and exhibited on a rotating basis – continually changing the look of the park and the lake.
This project helped made possible through the generosity and civic spirit of corporate, foundation and individual partners led by: Niagara Cares, Vista Paint, Helen and Peter Bing, Laird Plastic and Recycling, Arup, Federal Realty Investment Trust, Hal and Debby Jacobs Family Fund, The Home Depot Foundation, Plaza El Segundo, Wooster, The Davidow Charitable Fund, Shop.Vac., So Cal Ship Services, PacShorePartners and Del Star Technologies.
ABOUT PORTRAITS OF HOPE
Portraits of Hope conceives and develops high-profile motivational art projects that merge the production of dynamic public art works with creative therapy for hospitalized children and civic education for people of all ages.
Special Portraits of Hope brushes and methodologies have been developed for children and adults with illnesses and physical disabilities, including telescope brushes for those in wheel chairs or attached to IVs, shoe brushes for people unable to manipulate a brush with their hands, and fruit-flavored mouth brushes for kids and adults with limited or no movement in their limbs. For persons who are blind or visually impaired, Portraits of Hope utilizes special textured paints.
In schools, Portraits of Hope participants engage in interdisciplinary education sessions in which students assess, discuss and communicate their thoughts on social issues affecting their communities and the world, including: civic leadership, education, health care, the environment, foreign aid, pluralism, national security, and senior care. The larger art collaboration is a group effort to demonstrate tangibly the power of community teamwork and civic engagement.
Founded by brothers Ed Massey and Bernie Massey, Portraits of Hope has engaged tens of thousands of children and adults in huge civic collaborations - in the U.S. and abroad – and involved nearly 1,000 hospitals, schools, and social service programs in its projects.