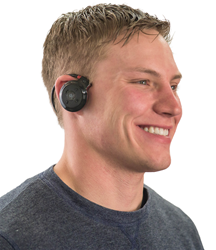 New sweat-resistant wireless headphones unveiled
New York, NY (PRWEB) August 20, 2015
Rokit Boost is dedicated to offering affordable, high-performance accessories for consumers and their favorite mobile devices. Today the mobile accessories innovator unveils another addition to its complete line of bestselling Bluetooth headsets. The new Sweat-Resistant SWAGE Sport Bluetooth headphones feature comfortable leather ear pads. With this newly updated headset, users can engage in their workout regimen and not have to worry about their headphones being compromised by perspiration. The headphones also come with the latest Bluetooth chipset technology for easy, hands-free listening.
Superior Listening Experience
Exercising certainly requires someone's full attention. With the Sweat-Resistant SWAGE Sport headphones, there are no troublesome wires or lingering concerns about dropping an expensive smartphone. This contemporary headset is equipped with Bluetooth v4.0 capacity, backed by atpX® support for exceptional Bluetooth® stereo audio quality. In other words, the Sweat-Resistant SWAGE Sport workout headphones offer a crystal-clear audio listening experience. Users can augment their workout regimen by listening to their favorite tunes or other content with the accessory's convenient, wireless operation.
Outstanding Comfort and Functionality
Leather ear pads last longer than foam ear pads. They are not as easily broken down by the rigors of heavy perspiration. The Sweat-Resistant SWAGE Sport headphones have been carefully engineered for this purpose. Complemented by a flexible and foldable headband design, they comfortably loop around a person's ears for use during strenuous activity. Demanding exercise such as running, jogging, lifting weights, or even performing handstand pushups will not cause the headset to fall off.
With its lightweight body, the headphones are easily stored and used in all settings. They also require little time for charging, enabling hours-long listening to music or hands-free conversing with family, friends, or colleagues. In line with contemporary aesthetic standards, the Sweat-Resistant SWAGE Sport headphones are available in solid black and darker, mid-toned red options.
Product Availability
The Sweat-Resistant SWAGE Sport headphones are available on Rokit Boost's online store. More information, including product pricing, the 30-day moneyback guarantee, a 1-year limited warranty, and other details can be found at: http://www.rokitboost.com or on Amazon
For a limited time, Rokit Boost has a limited inventory of free Sweat-Resistant SWAGE Sport headphones. These units are available for sampling by independent mobile lifestyle consumer bloggers and independent product reviewers. For more information, these parties are invited to contact Rokit Boost directly.
About Rokit Boost
Rokit Boost is a pioneer of affordable, high-quality mobile accessories. Whether they are innovations including iPhone charger cases, Bluetooth headphones, or wireless Bluetooth speakers/microphones, Rokit Boost's team seeks to add substantial enhancements to great existing products. The company also offers a refurbishment program of certified products for exceptional customer value, at reduced pricing.