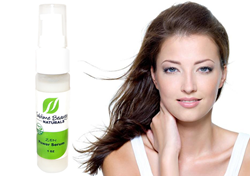 Our motto at Sublime Beauty NATURALS® is "Make Healthy Choices, Respect Your Body, Love Nature."
St. Petersburg, FL (PRWEB) August 20, 2015
Sublime Beauty NATURALS® debuts its new facial serum, the ZEN Power Serum, today.
"We designed this organic product to be the one-stop serum, instead of paying for 4 or 5 facial serums," said Kathy Heshelow, founder of Sublime Beauty NATURALS®."It has every item that is normally found in different serums, like Vitamin C, Matrixyl or Hyaluronic Acid. We want to help women buy less but get more."
The organic serum is to be used twice daily on cleansed skin. It will help heal, fight oxidation, sooth, moisturize, reduce pore size, boost collagen and enliven skin.
The product is O.W.N. (Organic, Wild-crafted Natural) Certified Organic, and in fact, everything about the serum is organic and environmentally friendly, down to the label which uses soy print. O.W.N.'s mission is to promote and protect organic, wild-crafted and natural trade to benefit the environment, farmers, the public, and the economy.
O.W.N. envisions organic products becoming a significant part of everyday life, enhancing people's lives and the environment.
"At least 60% of what is put on your skin is absorbed into the body systems," says Heshelow, "and we love the 100% organic serum." ZEN Power Serum includes no preservatives, no sulfates, no parabens, no adverse chemicals of any sort.
Our motto at Sublime NATURALS® is "Make Healthy Choices, Respect Your Body, Love Nature", says Heshelow.