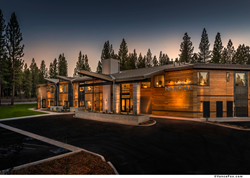 "Injecting some new amenities into this exquisite region that's close in proximity to urban centers such as Reno, Sacramento and the Bay Area should help entice tourists seeking to explore new destinations."
CLIO, Calif. (PRWEB) August 20, 2015
A pristine northern California region rich with outdoor recreation and scenic vistas welcomed the new, 42-room Lodge at Nakoma on Friday, August 14. Complementing its neighbor at Nakoma Golf Resort—the only clubhouse Frank Lloyd Wright ever designed—this is the only lodging property built in more than a decade in this "Lost Sierra" region just an hour north of Lake Tahoe.
Featuring 23,701 square feet of space overlooking the eighth green of Nakoma's renowned championship golf course, the new Lodge was designed by Cathexes Architecture to have a mountain modern aesthetic invoking the principles of legendary designer Wright. Architects emulated how they felt his style would have evolved versus mimicking that which existed nearby. Dramatic rooflines top expansive windows welcoming in the scenic outdoors, plus raw and contemporary construction materials inspired by the Lodge's natural surroundings such as western red cedar, board-form concrete, ashlar masonry and hot-rolled steel.
Guestrooms average 400 square feet and provide either two queen beds or one king, shower stalls or tubs with showers, WiFi internet, coffee makers with complimentary coffee and tea and flat screen, wall-mounted televisions. The property features three larger suite-like rooms with more expansive living spaces and guest baths with separate showers and tubs, plus an executive suite with a separate living area and sleeper sofa. Overnight accommodations begin at $189 per night.
In an area of Gold Country once discovered by adventurous fortune seekers that also touts itself as the western hemisphere's home to downhill ski racing, President of The Schomac Group, Inc. Ryan Schoff and his team have been busy helping to re-ignite tourism. Their multi-million dollar investment to develop Nakoma Golf Resort into a multi-faceted destination that includes the new Lodge at Nakoma, the upcoming Altitude at Nakoma Recreation Center plus thousands of acres of residential home sites and custom homes surrounding the resort has proved instrumental.
"Injecting some new amenities into this exquisite region that's close in proximity to urban centers such as Reno, Sacramento and the Bay Area should help entice tourists seeking to explore new destinations," cites Schoff. "We're hoping to attract modern-day pioneers to this minimally explored and picturesque area of the west, as well as outdoor lovers and people that may simply have a love for the region spanning many generations."
Providing a positive and memorable guest experience is top priority, therefore illy® espresso service is offered in the mornings at the Lodge, and an outdoor bar and putting green on the back patio provide further relaxation and entertainment.
Available shuttle service transports guests comfortably to the nearby clubhouse, where dining in the resort's Wigwam Room restaurant, imbibing at the FLoW Bar & Lounge, sweeping panoramas from the expansive outdoor terrace and a full-service spa and indoor pool can be found. Golfers can peruse the Pro Shop before hitting the newly updated 18-hole championship course, and bocce ball enthusiasts can play on the outdoor court as well. Lodge guests receive 15% off golf course green fees and 10% off merchandise.
Reservations can be booked and more information found at NakomaGolfResort.com, or by calling 1-877-462-5662.
###