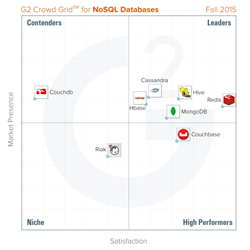 CHICAGO, IL - (PRWEB) August 20, 2015
The first Grid℠ report for NoSQL databases, published today by business software review site G2 Crowd, ranks eight products to help purchasers in their selections.
Cassandra, Hive, Hbase, Redis and MongoDB were named Leaders in the report, receiving strong customer satisfaction scores with a large market presence. Couchbase was named a High Performer, earning strong customer satisfaction marks with smaller market presence scores. Redis earned the highest overall Satisfaction and Market Presence scores.
The Grid℠, created from G2 Crowd's software review platform, factors in customer satisfaction reported by users, along with vendor market presence determined from social and public data to rank products. The Fall 2015 report is based on more than 130 reviews written by developers, database administrators and other business professionals.
NoSQL refers to any database alternative to the common relational model that arranges data discretely into tables of columns and rows. Common examples are the key-value store, document databases, column-oriented databases, and graph databases. NoSQL is commonly associated with more flexible deployment and structure as well as faster read and write performance. They are also commonly used for scaling to very large data sets.
Of the roughly 50 software vendors listed in G2 Crowd's NoSQL database tools category, the ranked products each received 10 or more reviews to qualify for inclusion on the Grid℠.
Across all NoSQL databases, reviewers reported the product they use meets their requirements at an average rate of 83 percent, and on average reviewers said they were 83 percent likely to recommend the product they use.
Security and Ease of Use were the most common pain points reported by users. Security was rated relatively low, with a 75 percent satisfaction average. Users routinely requested better role-based security settings for their databases. Query Languages and Data Manipulation also received relatively low average satisfaction scores of 70 percent and 75 percent respectively, pointing to struggles NoSQL databases still need to overcome to make data easy to pull and manipulate.
Some highlights from the NoSQL database reviews on G2 Crowd:
"Cassandra runs in a single daemon; there is no complex set of configuration, locking, and other services to get it running. The support for using x.509 certificates and TLS for cluster communication is cloud-friendly (because it doesn't require constant firewall or network segmentation updates). It has a true multi-master design with no nodes having special roles."

David Timothy Strauss, Founder and CTO at Pantheon Systems
"For BI reports Hive is the best since you can reuse all the SQL that you have done for traditional data warehouses. Also with Hive Server2 you get...real JDBC support so you can plug your BI tools to it."

Pengcheng Xiong, Technical Staff Member at Hortonworks
"HBase is the right DB for any non-relational usecase. HBase operations run in real-time on its database...It scales linearly to support billions of rows with millions of columns. It's [reliable and fast.]"

Bharadwaj Chivukula, Technical Project Lead and Data Manager at Nisum Technologies, Inc.
"Fast, easy to [setup]...Redis met all of our expectations for managing constant stream of flight data in XML, with very frequent object updates...Redis has great client support across multiple languages as well...Most other databases you would need to create a background task to look for items that need to be garbage collected. With Redis you can set an expiration and it will remove it for you."

Brad King, Principal Software Engineer at Mosaic ATM
"[MongoDB] is a flexible, scalable, NoSQL database that allows developers to take on many of the traditional database administrator tasks. Although it is very flexible, and allows one to store data how they wish, it also allows one...to achieve...very fast data ingestion when working with more complex distributed environments."

Stephen Dillon, Sr. EDISON Expert and Data Architect at Schneider Electric
"Couchbase is great. Setting up a cluster was amazingly easy. I almost felt like I had installed Chrome. The web interface also is quite rich, and easy to use, and it has built in monitoring so you can see how well it is performing."

Keith Lubell, CTO at Berkery, Noyes & Co., LLC
Satisfaction rankings are generated from the user reviews, and market presence is calculated from vendor size, market share, and social impact. Based on a combination of these scores, each software solution is categorized as a Leader, High Performer, Contender, or Niche.
Premium research access on NoSQL database platforms can be purchased on the site for $599. This offers the original data for filtering and weighting, as well as individual profiles of each platform with the most helpful positive and negative NoSQL database software reviews, detailed company information, user satisfaction ratings, feature scores and customer metrics. Future refreshes of the Grid℠ will provide updated rankings based on the latest reviews and social data.
Be sure to check out the new Grid℠ for the best NoSQL databases and subscribe to the premium research.
_______________
About G2 Crowd, Inc.
G2 Crowd, the world's leading business software review platform, leverages its 38,000-plus user reviews to drive better purchasing decisions. Technology buyers, investors, and analysts use the site to compare and select the best software based on peer reviews and synthesized social data. Co-founded by the founder and former executives from SaaS leader BigMachines and backed by roughly $12 million in capital, G2 Crowd aims to bring authenticity and transparency to business technology research. For more information, go to G2Crowd.com.