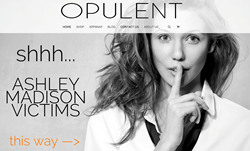 With our offer you might be lucky enough to sleep on the couch instead of that seedy motel down the street.
(PRWEB) August 21, 2015
Opulent Jewelers has an announcement to make for all of the people who were negatively affected by the recent hack on the online dating service Ashley Madison, which has made news headlines all around the United States throughout the past several weeks. The highly respected Pennsylvania based luxury jewelry company is offering a promotion to all of the people who had their personal information and sensitive details compromised by the hackers.
People who were victimized by the Ashley Madison hack are eligible to receive massive discounts on jewelry products purchased at Opulent Jewelers. If an individual spends more than $10,000 on an order at Opulent Jewelers, they can receive a $500 USD discount online with the coupon code JUSTINCASE. They will keep the promotion running until the end of September just for those who are ducking for cover and waiting to see how this all blows over.
Opulent Jewelers' massive discount opportunity is exciting for a number of different reasons. First and foremost, it allows people to shop for many luxury jewelry brands for markedly more inexpensive prices. Examples of these refined and reputable jewelry brands are Cartier, Bvlgari, Fred of Paris, Tiffany & Co., Louis Vuitton, Van Cleef & Arpels, Chopard and more. They say Diamonds are a girl's best friend so with our help we can at least keep you from living out of a hotel for the next few months. Although an explanation will likely be in order, it probably can't hurt for him to try to regain his partner's good graces by making a large purchase of some of the finest jewelry products in the world. Thankfully, Opulent Jewelers' has your back and we're here to take that hot water off boil and bring it down to a simmer.
While we don't condone cheating, we're a company that is no stranger to helping countless husbands and boyfriends stuck in the dog house looking for a get out of jail free card. So all you mischievous people out there not able to sleep at night perhaps you should give us a call and see what we can do to sort you out.