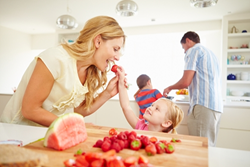 another solid if not stellar employment report leaves a potential Fed rate hike on the table for September
(PRWEB) August 20, 2015
Lenders like The Federal Savings Bank were intrigued that for the first time in four weeks fixed mortgage rates ticked up. According to Freddie Mac's weekly Primary Mortgage Market Survey released on August 13th, interest rates rose. However the average 5-year Treasury-indexed hybrid adjustable-rate mortgage average fell on a week-over-week basis.
Fixed-rate mortgages increase
For the week ending August 13, the average 30-year FRM rose when compared to the previous week. However, it remains lower than it was a year ago at this time.
Similarly, the average 15-year FRM increased from last week and still remains below the average seen when compared on a year-over-year basis.
ARM average see some change
The average 1-year Treasury-indexed ARM increased when compared on a week-over-week basis. In addition, this rate is actually higher than the one seen a year ago.
However, the average 5-year Treasury-indexed hybrid ARM decreased from last week and remains notably lower when compared to the previous year.
Cloudy forecasts for interest rates
Experts remain unsure about the future of interest rates.
"The jobs report for July showed that the economy added 215,000 jobs, in line with expectations," said Sean Becketti, Freddie Mac's chief economist. "Wage growth remains modest at 2.1 percent compared to the same time last year, and another solid if not stellar employment report leaves a potential Fed rate hike on the table for September."
According to the Bureau of Labor Statistics on August 7th, the Employment Situation Summary indicated growth and job gains occurred mostly in the fields of:
Health care
Retail trade
Professional and technical services
Financial activities
In addition, the unemployment rate remained unchanged from the previous month. When compared on a year-over-year basis, the unemployment rate has decreased.
This improvement is good news for individuals looking to purchase property. Especially first-time home buyers.
"However, this year's theme of overseas economic turbulence continues with the focus shifting east to China," continued Becketti. "Over the past few days the Chinese Yuan has fallen sharply."
International events make and the improving economy make it difficult to determine whether rates will increase or decrease.
"Headed into the fall, we'll likely see continued interest rate tension, with dollar appreciation weighing against possible Fed rate hikes leaving the rate outlook clouded," said Becketti.
While there was an increase in interest rates, potential buyers can still lock in a historically low interest rate by applying for a home loan now.
Contact The Federal Savings Bank, a veteran owned bank, to learn more about mortgages.