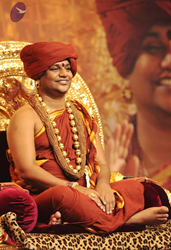 Blessings to Bharath to continue teaching the science of Independence to the world as it has been doing for millennia.
Los Angeles, CA (PRWEB) August 20, 2015
Thousands gathered today in Artesia, California, to celebrate India's Independence Day. Braving the heat wave, they came to exhibit their patriotic spirit for their country of origin - India, also known as Bharath. The cultural program, with traditional songs and dances in vibrant colorful costumes, showcased India's rich heritage. The Grand Marshall for the event was well known Bollywood actress Raveena Tandon.
The surprise highlight of the event left everyone in awe: the audience witnessed two children, Isha and Keshav Yanamandra, demonstrate their "superhuman" powers by reading effortlessly from books, and notes written by audience members - while their eyes were blindfolded. These children gained this ability through Third Eye AwakeningSM initiation & meditation, which they received directly from enlightened master, and popular spiritual Hindu leader H.H. Paramahamsa Nithyananda. The kids received this initiation while attending the 21-day program called Inner Awakening® for Kids in Varanasi, India, this past May. VIP guests - California Senator Tony Mendoza and Assemblymember Christina Garcia - verified the blindfolds themselves prior to the start of the live demonstration. The entire audience - politicians, host organizers and the thousands in attendance alike - were wowed by the children's special ability. Afterwards, audience members were able to visit the Nithyananda University booth for details on how to attend the 21-day meditation and yoga program Inner Awakening and learn this "superpower" for themselves.
The grand festivities culminated with a special awards ceremony where H.H. Paramahamsa Nithyananda was honored with an award for his Dedication to the Revival of Sanatana Hindu Dharma, which was presented by Senator Mendoza.
The event was co-organized by members of the Federation of Indo-American Associations of Los Angeles (FIA) and United Federation of Indo Americans of California (UFICA).
Similar demonstrations by kids of the Nithyananda GurukulSM and Inner Awakening for Kids program have been taking place all over the U.S. and world including Vancouver, Seattle, Los Angeles, San Jose, St. Louis, Columbus, Houston, Charlotte, New York, Sydney, Mumbai, Bangalore and many other cities.
For more information on the Inner Awakening® program for kids and adults, visit http://www.innerawakening.org, call 800-265-3386 or email support(at)innerawakening(dot)org.