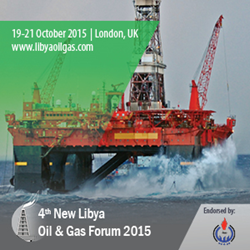 "It's the 4th Year the New Libya Oil & Gas Forum is organised in partnership with the NOC as the only international event where you can meet with key Libyan executives who can guide you through different aspects of Libya's oil and gas industry" www.noc.ly
London, UK (PRWEB UK) 20 August 2015
In appreciation of partners who helped develop the Libyan oil and gas industry over the years, the Libyan National Oil Corporation (NOC) will hold an awards ceremony to show their appreciation for their partners' continuous support of Libya's oil and gas industry. The Awards Ceremony of the NOC will be held on 19th October 2015, the first day of the 4th New Libya Oil and Gas Forum, organised by IRN.
The Chairman of the NOC, Mustafa Sanalla will be awarding international oil companies in the following two categories:

NOC Appreciation Award
Outstanding Lifetime Partnership Award
Libya holds 3.4% of oil and 1.7% of world's total gas; the highest volume in Africa according to the US Energy Administration and GeoExPro reports. This is 46.4 billion barrels of oil with 54.7 trillion cubic feet of gas. These figures show why Libya has always been in the spotlight of the oil and gas industry.
The Libyan National Oil Corporation carries out exploration and production operations through its own affiliated companies, or in participation with other companies under service contracts and other sorts of petroleum investment agreements. Additionally, the NOC handles marketing operations of oil and gas, locally and globally.
At the 2015 Forum, the NOC Libya will present exclusive details and answer questions regarding production, new projects, regulations, fiscal regime, petrochemicals, security and future business opportunities. Providing businesses with the necessary information for their oil operations in Libya, the Forum will also include a workshop day with two sessions focusing on "Physical security and risk management in Libya" and "Relevant oil and gas regulations and petroleum law in Libya".
Speakers at the Forum include the Chairman of Mellitah Oil & Gas (joint venture between ENI and NOC), the Head of Downstream Development, the Chairman of AGOCO (Arabian Gulf Oil Company), the Head of Exploration, the Head of Reserves, the Head of Planning, the Head of Cooperation, the Head of Technical Information and the Head of Marketing. The Former Chairman of the NOC Libya, Nuri Berruin will also be present at the Forum. International oil companies with long operations in the country such as BP will also be sharing their insights.
More information about the Summit is available on the website: http://www.libyaoilgas.com and released bimonthly in the Summit's newsletter to which someone can subscribe here. The organiser also publishes every day updates on their social media channels; The Oil & Gas Network in LinkedIn and @IRN_OilandGas in Twitter.