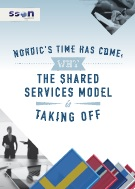 Nordic organisations are focusing on end-to-end process ownership and control, enterprise systems, data analytics and customer centricity as drivers of shared services value
London (PRWEB UK) 21 August 2015
for immediate release
The Shared Services & Outsourcing Network (SSON) has recently released its most recent report: Nordic's Time has come: Why the Shared Services Model is taking off, which provides insight into some of the most influential trends, opportunities for growth and priorities for investment in the Nordic region.
The report was produced ahead of the Nordic Shared Services & Outsourcing Forum and it takes a closer look at how Nordic-based Shared Services centres are facing up to current industry challenges in the region, top initiatives from advisors and solution providers as well as commentary and takeaways making it easier for shared services industry professionals to apply insight within their organisation and/or to benchmark against peers.
Copies of the report are fully downloadable from the event website here at no cost. A copy can be also requested via email at events(at)ssonetwork(dot)com
SSON's Nordics Shared Services & Outsourcing Forum taking place in Stockholm, Sweden in November 16th - 18th, will bring together Shared Services, GBS, Outsourcing & Transformation executives professionals and offers a unique cross-industry perspective into the full range of challenges, projects and successes being faced across the Nordic SSO market as well as insights into where SSCs in the region can develop their value delivery.
Find the full programme, event details and registration information about the Nordic Shared Services & Outsourcing Forum on http://www.nordicsharedservices.com/news , phone +44 (0) 207 036 1300 or email events(at)ssonetwork(dot)com