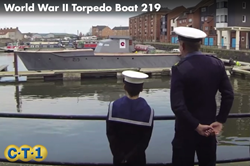 CT1's unique hybrid polymer formulation was more than able to seal the Second World War II Motor Torpedo Boat MTB219's leaks for the first time in 70 years!
(PRWEB UK) 25 August 2015
This year celebrates the 70th global anniversary of Victory in Europe (VE) Day. As a way of celebration, many people around the globe have participated in various commemorations to honour the bravery and futile bloodshed that occurred in both the First World War and World War II.
Turkey for instance, showcased an impressive series of tribute enactments to mark the 100th anniversary of Gallipoli in which 58,000 allied soldiers lost their lives during nine long months of senseless bloodshed. China plans to mark the 70th anniversary of the end of World War Two and its ruthless fight against Japan in Asia. According to Business Insider, China will showcase a multitude of movies, concerts, performances and exhibitions with the aim to strengthen nationalism and culture.
It appears that 2015 is the year of reminiscence, celebration and restoration of memories, ideas and artefacts. The 70th World War II anniversary has stirred up emotions from all four corners of the world with many people wanting to own a piece of that powerful history. Powerful movies have also been an incredible influence, such as 'The Water Diviner' and 'Unbroken' (starring Angelina Jolie and Russel Crowe) which impacted our view and educated us in ways that allowed us to witness glimpses of the war, as experienced by both opposing sides.
One of the most fascinating stories to emerge this year regarding the World War II anniversary, was released in July 2015 and hails from Christies, London. "It is arguably one of the most beautiful pieces of technology ever created," Thomas Kaplan (who owns two Spitfires) told the International Business Times, "It is as graceful as any piece of modernist design."
Many wish to salvage a part of the World War II and a great reason for this is due to the fact that it was a war that actively changed the face of politics, alliances and the modern idealism of peace. Restoration is a word we come back to as its dotted over many articles, case studies and think pieces used during 2015, the year that marks the 70th Anniversary of VE day and the 100th Anniversary of Gallipoli.
One of the greatest restoration triumphs in history was in the form of a World War II torpedo that was brought back to life and to its former glory. The torpedo had been long forgotten and was left to age through the years but with help from the latest technology, a dedicated team of historians, engineers and an advanced sealant, made this impressive restoration possible.
The 70ft World War II Motor Torpedo Boat MTB219, is the last of its kind. When it comes to World War II, most people know about the Battle of Britain but hardly anyone has heard of the Coastal Forces and the role that they were required to play in order to protect the precious convoys. This Motor Torpedo boat MTB219 served a great service and played an important role in our history books, so it is at no surprise that this artefact deserved fine restoration. MTB219 a 70ft (21.33m) long WWII Motor Torpedo Boat was built by Vosper & Co (Portchester, Portsmouth), who saw service in the Royal Navy's Light Coastal Forces between 1941 and 1945.
https://www.youtube.com/watch?v=AAWrtk5ujc4
She served in many battles rescuing many, and her story is worth saving. This important part of history is a Museum collection. However, her restoration was a struggle. With a boat of her age and having gone through a great number of battles, she suffered incredible damage to her structure with various cracks and leak gashes that were impossible to repair, meaning that she would never be able to successfully launch in the water.
The restoration of the boat has been one of a kind but has also been anything but straight- forward. It's been an interesting journey for MTB 219.
A journey that the infamous leader of Sealants helped to complete and without them, a journey that would not have been finished. CT1- The Snag List Eliminator- has been claimed and proven to be the Number 1 Sealant and Construction adhesive on the market. This magic mix helped to accurately restore history and return her back to her former glory on the water. With all her cracks and leaks, this seemed impossible at first, until the historical and restoration team at Bridgewater Museum were introduced the revolutionary product CT1.
This unique hybrid polymer formulation was more than able to seal the Second World War II Motor Torpedo Boat MTB21's leaks for the first time in 70 years! Due to the multiple cracks that had developed deep over time, water was pouring non-stopand allof the other products and methods that were tried and tested failed to be put back into the water for the Museum collections and anniversary events planned around the various battles of World War II.
CT1- The Snag list Eliminator, solved the problems and has awakened a new interest in restoring artifacts, especially those in or around water. The unique polymer formulation can effectively seal the leaks even if water is still leaking from the source and it can do so UNDER WATER, making CT1 the perfect sealing and bonding solution for those objects and artefacts which are just too delicate to resurrect yet.
The VOC sealant CT1, will not damage the boat but can also prevent fungus from growing around its edges. It can also be painted over so that it returns to its natural colour, blending seamlessly with the rest of the structure.
History should always be persevered but in some instances restoration and digging for truth can be more difficult than the battle it fought in.
Let's Dig, Let's Restore, Let's Seal. Let's CT1 it!
https://www.youtube.com/watch?v=REDdytFCYKs