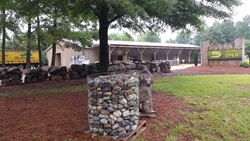 A grand opening celebration will be held Saturday, August 22nd with deals, prizes, and BBQ sandwiches.
Cary, NC (PRWEB) August 21, 2015
Super-Sod of the Triangle has added a second location in Cary, NC at 1900 NC 55. Customers can expect to see the same inventory: sod, grass seed, Soil3 organic compost, and pine straw, plus a broadened chemical selection, A.M. Leonard tools, stone, and soon they'll have bulk and bagged mulches.
Their new location is at the former Family Home & Garden building. Sod pick up and delivery is also available at the new Cary store and the two Triangle Super-Sod stores share the same telephone number of 919-836-0492.
A grand opening celebration will be held Saturday, August 22nd, from 8am to 2pm. Some of the deals and prizes Super-Sod will have available include:
-Buy-one-get-one rolls of sod while supplies last;
-$99 fall Tall Fescue over-seeding package deal which includes enough seed, fertilizer, and lime to cover 8,000 square feet;
-20% discount on lawn care products (excluding tools and mowers);
-Free scheduled delivery on orders of 1 or more pallets of sod when orders are placed in person on Saturday;
-Door prizes;
-Raffle for three chances to win a one cubic yard BigYellowBag full of Soil3 organic compost;
-BBQ sandwiches from Big Mike's food truck around lunchtime. One sandwich per person will be given away while supplies last.
At the Grand Opening, Super-Sod will also be hosting a dog and cat Adopt-a-thon from 10am to 2pm through the Wake County Animal Shelter.
Super-Sod is a family-run business that employs experts in turf and horticulture. One of their most popular products has been their Soil3 organic compost, delivered in a cubic yard BigYellowBag, which they make partially from composted grass clippings from their turfgrass production. Soil3 is recommended for amending all soils from vegetable gardens to lawns. The sod company continues to develop new garden products (for instance, Leisure Time(TM) zoysia grass), foster gardening and landscaping, and always seeks to improve their farming practices, technology, environmental stewardship, and employee knowledge.