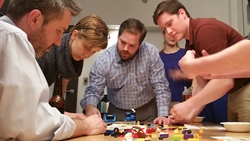 We are 'The Collaborative' – one firm comprised of multiple talents, varying personalities, and collective passion for incomparable design. Brook Jones, Director of Marketing & Perceptions
Toledo, Ohio (PRWEB) August 22, 2015
The Collaborative has been awarded #1 in the nation, by ZweigWhite, for Best Firm to Work For in the Architectural category. The award is based on employee feedback; evaluating culture, workplace practices, employee benefits, professional development, and retention rates.
The Collaborative is a fellowship of diverse design professionals committed to: creating environments of excellence and distinction which enrich the human experience; exceeding client expectations; thriving on team relationships; fostering environmental stewardship, and enhancing the value of the organization. Teamwork is our guiding principle.
The Collaborative is always striving to be better, to retain and recruit exceptional talent, and to find ways to continuously impress our clients. The Principals of the firm are true leaders; mentors. They lead by example and encourage the betterment of the employees. The strong emphasis on culture reflects throughout our internal and external firm perception. We are "The Collaborative", one firm comprised of multiple talents, varying personalities and collective passion for incomparable design.
About The Collaborative
The Collaborative is a 45-person multi-disciplined firm, encompassing Architecture, Landscape Architecture, Interior Design, Planning and Graphic Design. Founded in Toledo, Ohio in 1973, with an additional office in Ann Arbor, Michigan, The Collaborative serves the educational, corporate and recreational markets.