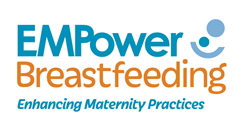 "One of the most effective preventive measures a mother can take to protect the health of her infant is to breastfeed, and hospitals play a vital role in educating expecting and new mothers about the many benefits of breastfeeding."
Atlanta, Ga. (PRWEB) August 20, 2015
Hospitals in 24 U.S. states, representing a diverse mix of urban and rural hospitals, teaching hospitals, and a military hospital, have been selected to join the EMPower Initiative to enhance their maternity care practices and work toward achieving Baby-Friendly USA© designation.
Led by Abt Associates and its partners, and with funding from the Centers for Disease Control and Prevention (CDC), this initiative has the potential to reach over 200,000 infants each year, and its hospital participants are committed to increasing breastfeeding rates throughout the United States. As part of the initiative, hospitals also commit to promoting and supporting optimal breastfeeding practices, with the ultimate goal of improving the public's health.
"One of the most effective preventive measures a mother can take to protect the health of her infant is to breastfeed, and hospitals play a vital role in educating expecting and new mothers about the many benefits of breastfeeding," said Cynthia Klein, EMPower Initiative Project Director and Senior Associate at Abt Associates. "We're pleased to carry out the important work of ensuring that every hospital enrolled has the tools and processes in place to earn a Baby-Friendly designation."
The hospitals selected to join the EMPower Initiative will receive ongoing support in breastfeeding practices and quality improvement methods from experienced coaches, as well as training and resource support in lactation education. The effort supports evidence-based practices for prenatal and maternity settings known as the Ten Steps to Successful Breastfeeding. The Baby-Friendly Hospital Initiative, implemented in the United States by Baby-Friendly USA©, is an effort to encourage hospitals and birthing centers to complete the Ten Steps and become "Baby-Friendly" designated.
In addition to Abt, the EMPower team includes the Carolina Global Breastfeeding Institute and the Center for Public Health Quality.
Click here for a full list of hospitals selected to join the EMPower Initiative.