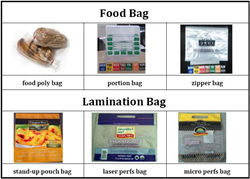 Plastic Bags Manufacturer & Supplier
Ontario, CA (PRWEB) August 22, 2015
Plastic major, Universal Plastic has extended its products range to offer more choices to its customers. The categories under which the products have been extended includes food bag, lamination bag, mailer bag and industrial bag. Over all customers can now look forward to 12 more choices in the already extensive product line.
According to Universal Plastic, the products portfolio has been extended in-line with the companies policies to keep innovating and keep offering more comfortable and practical packaging solutions to its discerning customers that demand the best choices.
Universal Plastic, based out of California, is in the business of manufacturing plastic bags for the last 25 years. The company offers diverse choices in plastic bags, gusseted bags, reclosable bags, food and fish bags, trash can liners, garment bags etc. The company has a state-of-the-art facility to manufacture best quality plastic bags that strictly adhere to the quality norms and are also recyclable.
By extending its product range the company wishes to make packaging more user-friendly for customers and also to stay ahead of its competitors. Here is a lowdown on the newly introduced products line:
Food Poly Bag — Food poly bags are quite useful in storing different types of foods such as breads, nuts, snacks, candies etc. These bags are designed to withstand friction so that the food does not tear the plastic easily even during transit. As these bags offer clarity, the food color is easily visible. What's more, these bags maintain the fragrance and prevent food spoilage and are therefore ideal for food packaging industry.
Portion Bag — Portion bags are designed to minimize food wastage by helping allocate the right portion size. The newest range of portion bags by Universal Plastic can withstand microwave temperature, are tear resistant and recyclable.
Zipper Bag — Zipper bags are useful in various industries. Univeral Plastic's zipper bags are designed to keep products in place and keep it safe from the elements.
Lamination Bag
Stand-up Pouch Bag — Stand-up pouch bags are fast becoming popular. In its newest product line, Universal Plastic offers extensive choices in terms of size and colors.
Laser Perfs Bag — Universal Plastic offers high quality laser perf bags in a wide range. Customers can look forward to reduced prices on wholesale purchase of these bags.
Micro Perfs Bag — These bags come with pin sized holes throughout the bag to allow the product to "breath". Universal Plastic offers these products in an extensive size range to suit the varying requirements of industries.
Mailer Bag
Poly Mailer Bag — Designed specifically for courier industry, poly mailer bags by Universal Plastic are self sealing and help keep your documents safe.
Bubble Mailer Bag — These bags are designed to offer extra protection to important corporate products and documents. You may choose from a wide range of these bubble mailer bags at Universal Plastic.
Packing List — These come with an adhesive so you can insert a document in this bag and stick it over a package. You may find them at an affordable price on bulk purchasing.
Industrial Bag
Trash Bag/dog Waste Bag — These bags are leak proof so that dog waste can be handled safely and hygienically. It has enough space at top to allow you to tie a secure knot.
Pallet Cover — Pallet covers by Universal Plastic are designed to safeguard warehouse as well as loading dock items from dust and debris.
Mattress Bags — Universal Plastic has come up with an all new range of high quality mattress bags that help keep your mattress safe from dust, dirt and moisture during storage or transition. It comes with microban additive to prevent the growth of mold and bacteria, thus keeping your mattress safe during storage.
For more information on these products or to place your order visit Universal Plastic website.