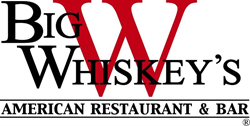 Columbia, MO (PRWEB) August 21, 2015
Big Whiskey's American Restaurant & Bar is targeting Columbia and surrounding areas for it's next locations. Big Whiskey's prides itself on offering a unique gathering place in local communities - focusing on good food and good times for all. Locals can enjoy the menu at lunch, happy hour, dinner and late night, as well as the extensive beer menu and, yes, whiskey on tap!
"Columbia is one of the most requested locations from our website and we believe it will be a perfect fit for big Whiskey's American Restaurant and Bar. With our restaurant concept that celebrates our bar product and sports, we felt Columbia was a natural fit," said owner Austin Herschend.
Big Whiskey's flagship location in Downtown Springfield opened its doors in July of 2006 and quickly became a local favorite. An additional Springfield location opened on West Republic Road in the summer of 2010. After opening another Big Whiskey's American Restaurant & Bar on Battlefield Road in 2011, the desire to branch out to neighboring communities became a priority to the ownership group including Paul Sundy, Michael Heslin, Randy Gildehaus, Jame Clark, and Austin Herschend. With the success of the Ozark/Nixa location, which opened June 2014, the next move was opening the Branson, MO location in 2015 and targeting markets like Columbia and St. Louis.
Herschend says "We have always identified Columbia as market we were interested in, even pursuing locations, but we have decided to open it up to franchisees".
Big Whiskey's is a place where traditions are just as important as trends. To bring their traditions to Tiger Territory, Big Whiskey's is seeking operators and community business leaders to join their franchise system.